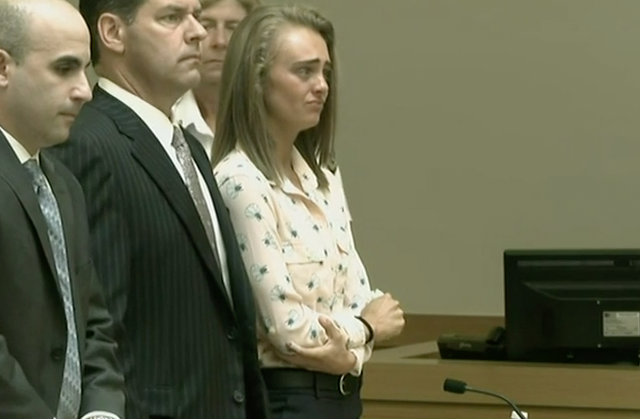 Let me be crystal clear about something, lest my words be minced in such a way as to strip them of their original intended meaning:  I carry no grudge against the ACLU. I know people who work for the ACLU, and I like them. In fact, I agree with a lot of the work the ACLU does.
This is just not one of those times.
A lot of people used a statement by the ACLU of Massachusetts to argue against the conviction of teen text suicide defendant Michelle Carter. Carter, now 20, was a teenager when she pressured her boyfriend through prolonged text message and voice conversations into committing suicide, a Massachusetts judge found. She was sentenced yesterday to a 2.5 year term, with 15 months behind bars and the rest on probation. The judge stayed the sentence pending an appeal, something which is rarely ever done.
Here is part of the ACLU-Massachusetts original statement on the Carter verdict.
"There is no law in Massachusetts making it a crime to encourage someone, or even to persuade someone, to commit suicide."
That's not entirely accurate. The state has for decades extended involuntary manslaughter to cover situations where one person helps another person kill him or herself. Surely, the ACLU brain trust is smart enough to look up cases like Commonwealth v. Atencio (1963) (affirming convictions against participants who mutually encouraged a game of Russian roulette where a third person died) or Persampieri v. Commonwealth (1961) (examining where a husband explained to his wife how to commit suicide via gunshot and taunted her into doing it) to understand the standard.
That's the intellectual equivalent of a slow-speed uncoupling of a couple of neurons. Then, however, the ACLU causes a really messy brain train derailment:
"The implications of [Michelle Carter's] conviction go far beyond the tragic circumstances of Mr. Roy's death. If allowed to stand, Ms. Carter's conviction could chill important and worthwhile end-of-life discussions between loved ones across the Commonwealth."
That is FLAT. OUT. WRONG.
The Massachusetts Supreme Judicial Court already looked at the Michelle Carter case and warned against that sort of interpretation. Carter's defense team challenged the sufficiency of her indictment. As part of its ruling affirming the indictment, the state's highest court was both extremely careful and extremely explicit in stating:
"It is important to articulate what this case is not about. It is not about a person seeking to ameliorate the anguish of someone coping with a terminal illness and questioning the value of life. Nor is it about a person offering support, comfort, and even assistance to a mature adult who, confronted with such circumstances, has decided to end his or her life. These situations are easily distinguishable from the present case, in which the grand jury heard evidence suggesting a systematic campaign of coercion on which the virtually present defendant embarked — captured and preserved through her text messages — that targeted the equivocating young victim's insecurities and acted to subvert his willpower in favor of her own. On the specific facts of this case, there was sufficient evidence to support a probable cause finding that the defendant's command to the victim in the final moments of his life to follow through on his suicide attempt was a direct, causal link to his death."
In case you didn't pick up on the distinction, ACLU, here it is:  there is no evidence on the record that Conrad Roy III was anything but physically healthy. There is zero evidence to suggest he was "coping with a terminal illness" or nearing the end of his life through the mechanisms of age or disease. His only illness, according to the record, involved mental health problems. He also was not a "mature adult." He was an impressionable teenager. That's why this case has nothing to do with traditional end-of-life decisions.
It is morally bankrupt for the ACLU to go charging down the path of making the Carter case about physician-assisted suicide, end-of-life care, or anything even remotely similar because the court already said that is not what it is about. And the court is right.
Therefore, I hereby accuse the ACLU of using the tragedy of Conrad Roy III's death as a scare tactic to worry people into a frenzy, or maybe to rile up end-of-life care advocates into pushing legislation, or maybe even to convince people to donate to the ACLU because of this new non-threat to end-of-life care decisions.
Sorry, ACLU of Massachusetts. You are Chicken Little. The Supreme Judicial Court has already said that the sky is not falling.
The intellectual honest way for the ACLU to argue the more legitimate complaint – that the Carter verdict has First Amendment implications – is to charge full-speed down that path and to not throw in the end-of-life care argument. Or, if the ACLU wants to charge down that path, then it needs to acknowledge the contrary authority: "though the Court has already agreed that this case has nothing to do with end-of-life care decisions, the ACLU fears, with little evidence to support its fear, that it might result in a slippery slope." (Well, maybe not quite that way, but something close to that.)
The original ACLU-Massachusetts statement fuels the burning feeling in my stomach that society has lost its ability to maturely address issues of public concern.
Oh, in case anybody needs it, the citation for the Carter case's end-of-life care discussion is Commonwealth v. Carter, 474 Mass. 624, 636 (2016).
Aaron Keller is an attorney and live streaming trial host for the LawNewz Network. Follow him on Twitter at @AKellerLawNewz.
This is an opinion piece. The views expressed are solely those of the author, though you are certainly entitled to his opinion.
Have a tip we should know? [email protected]
Aaron Keller - Deputy Editor-in-Chief