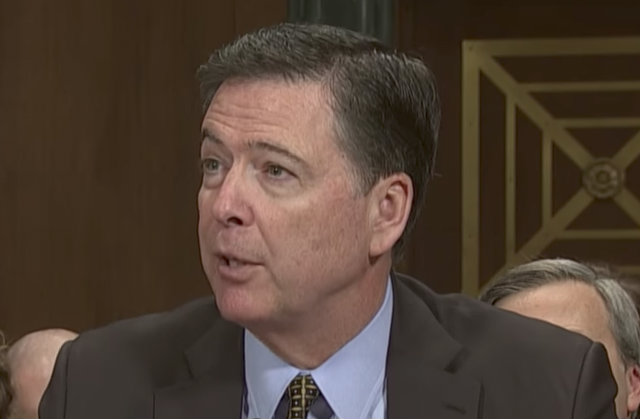 Former FBI Director James Comey read the newly released "Nunes" memo, and he gave it a thumbs down.
That's it? Dishonest and misleading memo wrecked the House intel committee, destroyed trust with Intelligence Community, damaged relationship with FISA court, and inexcusably exposed classified investigation of an American citizen. For what? DOJ & FBI must keep doing their jobs.

— James Comey (@Comey) February 2, 2018
The document states that the FBI obtained a FISA warrant on Trump campaign adviser Carter Page using information from the Trump dossier as probable cause. It also disparaged the document since its research was funded by the Clinton campaign and the Democrat National Committee. The memo's writers described this warrant process as a "troubling breakdown of legal processes."
The document is a political lighting rod, with critics saying that it is being used to discredit and undermine a special counsel's investigation into whether the Trump campaign colluded in Russian election interference. US intelligence agencies said Moscow directed cyberattack efforts to help the president win, according to a report declassified January 2017.
The FBI, now led by Trump appointee Christopher Wray, says the memo had accuracy problems. Law&Crime reached out to the agency for commment about Friday's release, and they said their statement from Wednesday still stands.
"The FBI takes seriously its obligations to the FISA Court and its compliance with procedures overseen by career professionals in the Department of Justice and the FBI," said an agency email. "We are committed to working with the appropriate oversight entities to ensure the continuing integrity of the FISA process. With regard to the House Intelligence Committee's memorandum, the FBI was provided a limited opportunity to review this memo the day before the committee voted to release it. As expressed during our initial review, we have grave concerns about material omissions of fact that fundamentally impact the memo's accuracy."
Trump has repeatedly called the Russia investigation a "witch hunt."
The memo may have some real legal ramifications, however. It states that authorities didn't disclose to the FISA court that dossier-author Christopher Steele had an anti-Trump bias. Click here to see analysis on that from Law&Crime Senior Editor Ronn Blitzer.
[Screengrab via PBS]
Have a tip we should know? [email protected]