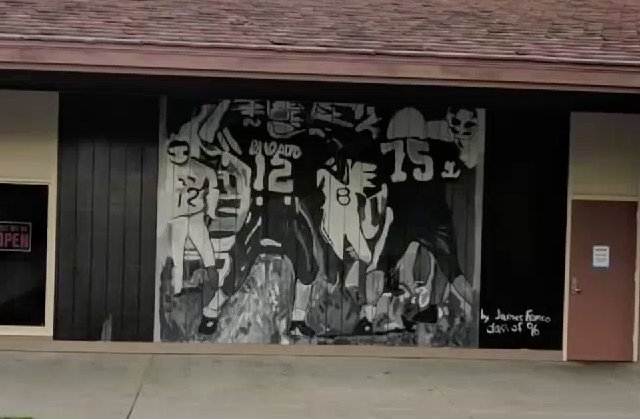 The sexual misconduct allegations against James Franco led his former high school to paint over a mural he made. Palo Alto High School Principal Kim Diorio announced the move earlier this week in an interview with the student-run newspaper The Paly Voice.
"I made the decision we'll take down the mural on the Student Center because I think that's the one that's most visible to the outside community," she said.
Multiple women, including actress Ally Sheedy, stepped forward with claims on Twitter after Franco showed up to The Golden Globe awards wearing a Times Up pin in support of victims of sexual misconduct. Franco spoke with late night hosts Stephen Colbet and Seth Meyers, telling them the tweets he read were inaccurate.
Five women elaborated on allegations to The Los Angeles Times. Actress Sarah Tither-Kaplan, one of Franco's former students, told the outlet that he hired her and others to appear naked for a movie. She claimed he was performing simulated oral sex on actresses, but removed the plastic guard protecting their vaginas. Franco's lawyer disputed the claims in that report.
"These are still allegations," Diorio told the Voice. "I can't even say it [the decision to replace the mural] is based on fact because he's denied those allegations and hasn't been charged with a crime."
Franco, who graduated from the school in 1996, contributed paintings and two murals. Still, Diorio downplayed the long term importance of his artwork to the campus.
"When we were opening the MAC [Media Arts Center] we wanted to do a big celebration," Diorio said. "Nothing was intended to be permanent. Even his artwork is still considered to be 'on loan' to us."
The school removed Franco's other mural in 2016 because it was seen as depressing, with its grey and black colors.
"Given what our community went through last year with the student suicides, I think that there were some people who felt that this mural gave a ghoulish kind of effect," Diorio told the Voice at the time.
Franco's paintings, located in the school's Media Arts Center, will also be removed.
[Screengrab via NBC Los Angeles]
Have a tip we should know? [email protected]