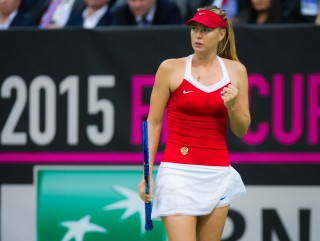 The International Tennis Federation announced today that they will suspend Maria Sharapova for two years following a failed doping test back in March.  This news comes after Sharapova, a five-time Grand Slam Champion, failed a drug test back in March, which she admitted in a press conference in Los Angeles.  Sharapova had been taking the drug, meldonium, for 10 years following prescriptions by family doctors.  The drug was only recently added to the ITF's list of banned substances.
"I take great responsibility in my job every day and I made a huge mistake and I let my fans down and let the sport down that I've been playing since age 4 and that I love so deeply," Sharapova said when she failed her drug test.
However, Sharapova believes that the ITF has tried to scrutinize her in an attempt to force her out of the sport.
"The ITF spent tremendous amounts of time and resources trying to prove I intentionally violated the anti-doping rules and the tribunal concluded I did not. You need to know that the ITF asked the tribunal to suspend me for four years – the required suspension for an intentional violation — and the tribunal rejected the ITF's position," she wrote in a Facebook post earlier today.
Sharapova had once been the highest paid female athlete in the world with sponsorships from companies like Nike, Evian, and Porsche. However, she lost most of these endorsements following her announcement that she had failed the doping test back in March. Sharapova also said that she intends to appeal the decision in the Court of Arbitration for Sport according to her Facebook post.
Have a tip we should know? [email protected]