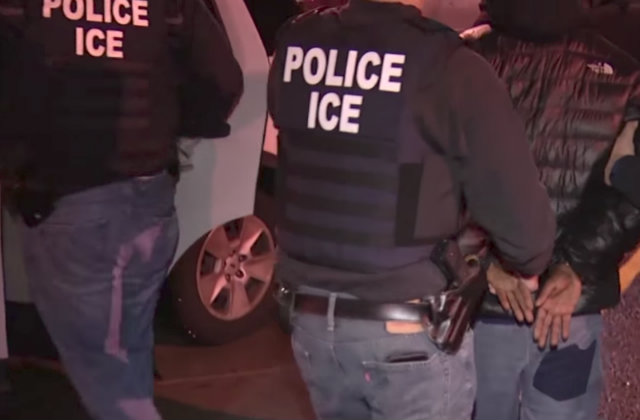 An agent for Immigration and Customs Enforcement worries that President Donald Trump's policies are hurting the agency, transforming colleagues for the worse.
"I have officers who are more likely now to push back," the agent told The New Yorker in a Monday report under the condition of anonymity.
"I'd never have someone say, 'Why do I have to call an interpreter? Why don't they speak English?' Now I get it frequently. I get this from people who are younger. That's one group. And I also get it from people who are ethnocentric: 'Our way is the right way—I shouldn't have to speak in your language. This is America.'"
This person has witnessed "contempt that I've never seen so rampant towards the aliens."
To be sure, the agent, who has served in federal immigration enforcement since the Clinton administration, wasn't a fan of Barack Obama's approach to ICE: too much micromanagement. But the pendulum swung too far in the other direction under Trump.
"We're going to get sued," the agent said. "You have guys who are doing whatever they want in the field, going after whoever they want."
This person had been communicating with New Yorker reporter Jonathan Blitzer for months, agreeing at first only to speak off the record. That changed after a new policy directed agents to go after undocumented immigrants who came to the states as unaccompanied minors; the government previously just put them in the care of American families.
"The whole idea is targeting kids," the agent said. "I know that technically they meet the legal definition of being adults. Fine. But if they were my kids traveling in a foreign country, I wouldn't be O.K. with this. We're not doing what we tell people we do. If you look next month, or at the end of this month, at the people in custody, it's people who've been here for years. They're supposed to be in high school."
This person argues that moving ICE into such high-gear overburdens the system beyond judges' ability to handle the backlog of cases.
"We still have to make decisions based on a responsible use of the government's resources—you can't lock everybody up," the agent said. "We're putting more people into that overburdened system just because we can. There's just this school of thought that, well, we can do what we want."
ICE has boasted its efforts under the current administration.  Deportations were quite high even under Obama, but Trump's presidency is still young. A report from the Immigration and Customs Enforcement boasted that immigration arrest numbers from January 22 to April 29, 2017 were up compared to the previous year because POTUS tweaked immigration policy through executive orders–This was true of both criminal and non-criminal offenders.
"While these data clearly reflect the fact that convicted criminals are an immigration enforcement priority, Homeland Security Secretary John F. Kelly has made it clear that ICE will no longer exempt any class of individuals from removal proceedings if they are found to be in the country illegally," they said. "This is evident by the rise in non-criminal arrests over the same period, which increased from approximately 4,200 in 2016 to more than 10,800 in 2017."
[Screengrab via an NJTV Dec. 2016 report on ICE]
Have a tip we should know? [email protected]