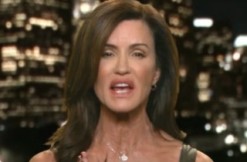 Supermodel Janice Dickinson's defamation lawsuit against Bill Cosby faces a major hurdle. A California judge is scheduled to decide Monday whether or not to dismiss her claim. Attorneys for Cosby say it must end. They allege the supermodel has given varying stories about their 78-year-old client throughout the years. She can't be trusted, they say.
The suit stems from after Dickinson, 61, publicly claimed that Cosby raped her in 1982. "In retaliation, Cosby, through an attorney, publicly branded her a liar," according to her May 2015 filing. Dickinson also says she tried to write about the allegation in her 2002 autobiography, but her publisher shot down that idea.
Her supporters, like therapist Dr. Drew Pinsky, say they believe her.
Over 50 women have come forward saying Bill Cosby sexually assaulted them. Relatively little legal action has sprouted from this since the statute of limitations ran out in most cases. Then again, there's been quite a few lawsuits, and his December arrest for an alleged 2004 sexual assault. If convicted for that, he'd go to prison for 10 years.
[h/t Associated Press]
[image of Dickinson via HLN screengrab]
Update — Feb. 29, 3:00 p.m. EST: Dickinson won, according to a report by Deadline. The judge said the suit will move forward.
–
Follow Alberto Luperon on Twitter (@Alberto Luperon)
Have a tip we should know? [email protected]