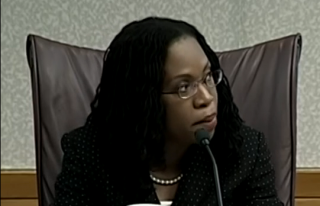 Judge Ketanji Brown Jackson of the U.S. District Court for Washington, D.C. is currently on the White House's list of potential Supreme Court nominees.  The National Law Journal reports that Jackson is currently being vetted  for the position, citing a Washington attorney who was contacted as part of the process.
Jackson,45, has been serving on the federal district court since 2013. She is a graduate of Harvard Law School and a former clerk for Justice Stephen Breyer. She was a federal public defender and of counsel to Morrison and Foerster, before being appointed to the U.S. Sentencing Commission. where she continued to serve after becoming a judge.
It is rare for a current trial judge to be selected to the Supreme Court. However, according to the National Law Journal, Justice Sonia Sotomayor considers her experience in that role prior to joining the Second Circuit Court of Appeals to be a "formative experience" that prepared her for being a Supreme Court Justice.
Judge Jackson is related to Republican Speaker of the House Paul Ryan through marriage. Her husband is the twin brother of Ryan's brother-in-law. Ryan continues to support House Majority Leader Mitch McConnell's plan to block the nomination of any Supreme Court candidate until the next president takes office, but he gave his full support to Jackson during her appointment to the D.C. bench,  according to ABC News. At Jackson's confirmation hearing in 2012, Ryan said, "Our politics may differ, but my praise for Ketanji's intellect, for her character, for her integrity is unequivocal."
[h/t National Law Journal, screengrab via C-SPAN]
Have a tip we should know? [email protected]