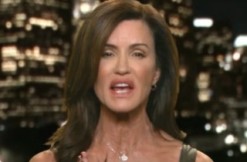 A supermodel wants her accused rapist's insurance company to cover his bill. Janice Dickinson asked a California judge to make Bill Cosby's insurance company, AIG, pay her if she wins the suit or if the comedian settles, according to Radar Online. In reported Feb. 1 documents, she says the company's policy covers allegations she made in her defamation suit against the 78-year-old comedian.
We're talking about millions of dollars, but AIG reportedly says Dickinson won't ever be getting that cash, according to Radar Online. In their reported rebuttal, they say their insurance policy with Cosby doesn't cover him for lawsuits related to alleged "sexual misconduct."
Dickinson says Cosby raped her in 1982 after drugging her. Now she is suing Cosby for defamation after she made that allegation public. "In retaliation, Cosby, through an attorney, publicly branded her a liar" to destroy her professional reputation, according to the May 2015 suit, via Deadline. If she wins, she'd get damages, court costs, and "other and further relief as the Court deems just and proper." And she wants that money to be AIG money.
Over 50 women have publicly said that Cosby raped them. It has led to quite a few other legal struggles for the comedian, including other defamation suits, and a December arrest in Pennsylvania. There, he has been charged with aggravated indecent assault for an alleged 2005 rape. Despite initial legal scuffling, that case is going to trial.
LawNewz.com has reached out to AIG, and to Dickinson's lawyers, but hasn't heard back.
[h/t Radar Online]
[image via HLN screengrab]
–
>> Follow Alberto Luperon on Twitter (@Alberto Luperon)
Have a tip we should know? [email protected]