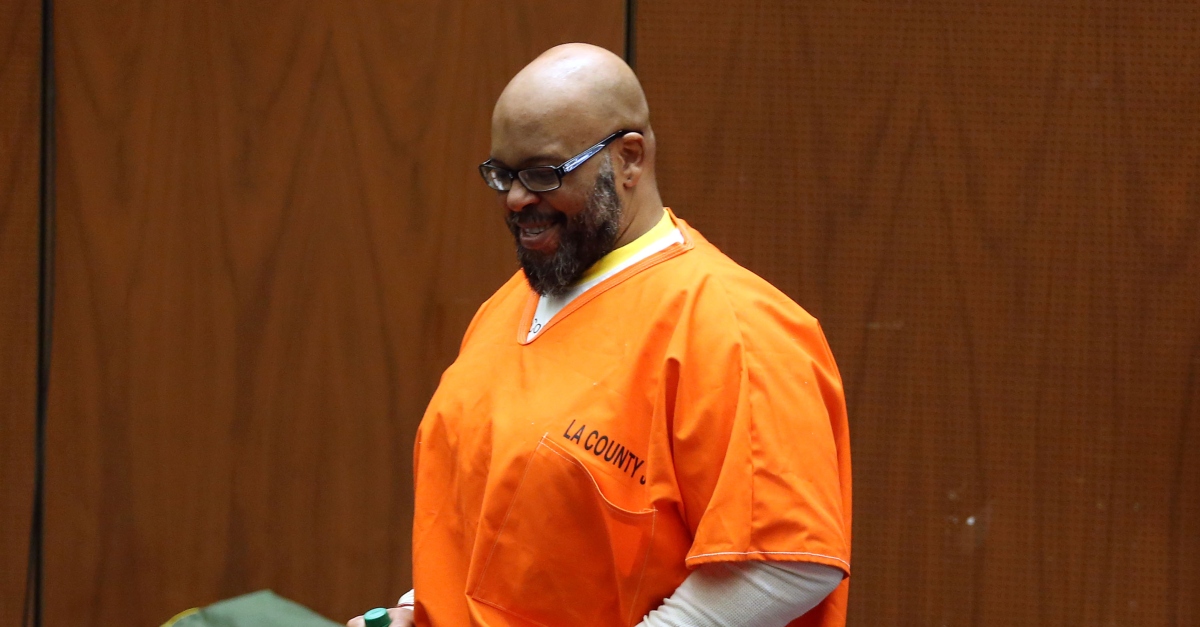 Infamous rap mogul Marion Hugh "Suge" Knight pleaded no contest Thursday to a fatal 2015 hit-and-run. In practice, the plea deal might result in a virtual life sentence for the 53-year-old. He is expected to be sentenced on October 4 to 28 years in prison, says the Los Angeles District Attorney's Office in a statement obtained by Law&Crime.
Knight ran over two men with his truck after a confrontation outside a Compton restaurant, prosecutors said. This allegedly happened on the set of the film Straight Outta Compton. Victim Cle "Bone" Sloan survived with injuries, but the other, 55-year-old Terry Carter, died. Authorities first went after Knight for murder. He pleaded down to voluntary manslaughter, with a special allegation that he used a deadly weapon (the truck).
No contest means the defendant does not admit guilt.
What does Knight get out of submitting to prison time even though he doesn't confess? Prosecutors say the judge is expected to dismiss two other criminal cases against Knight. 1) Alleged threats in August 2014; and 2) an alleged camera theft in September 2014.
Prosecutors say that under sentencing guidelines, Knight would get 11 years in prison for the voluntary manslaughter plea alone, but that is expected to get doubled because he was convicted before under the state's three strikes law.
Knight, known as a co-founder of Death Row records, had a very bumpy road to this plea. He cycled through more than a dozen attorneys.
"These attorneys, nobody in the world would use these attorneys for a jaywalking ticket!" Knight reportedly said in court last March, after the 15th lawyer dropped out because of a conflict of interest.
[Image of Knight in a 2016 pre-trial hearing via Frederick M. Brown/Getty Images]
Have a tip we should know? [email protected]