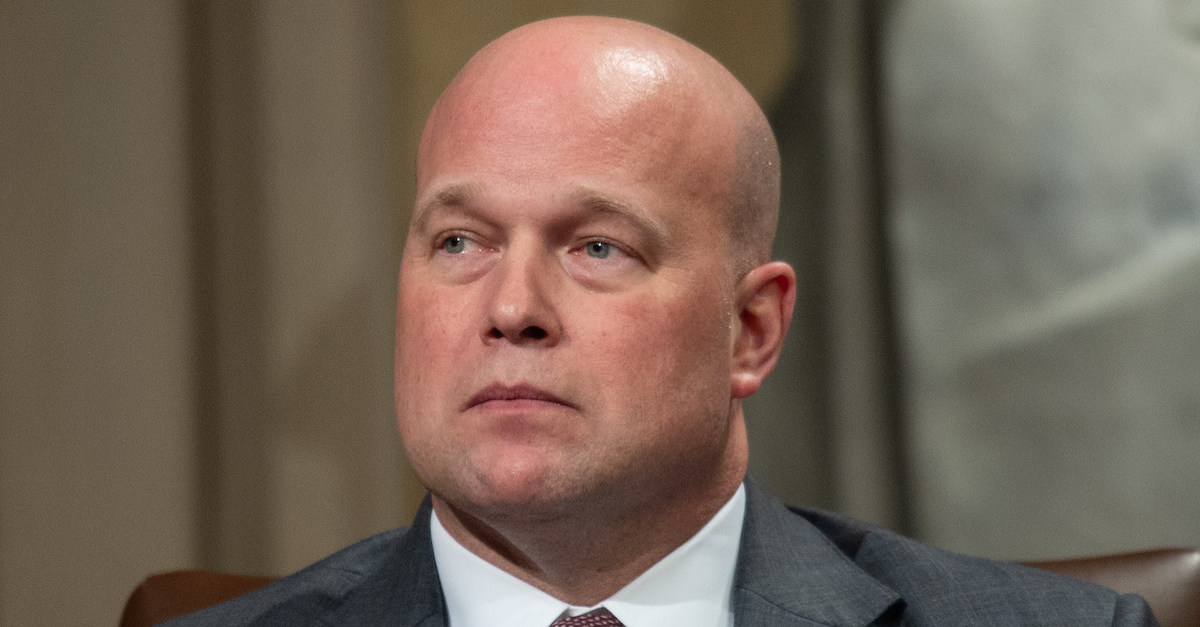 After a few days of the public and the press demanding to know where acting Attorney General Matthew Whitaker's financial disclosure form was located, the "revised" document is reportedly going to appear "as soon as today."
As Law&Crime reported as recently as Saturday, the non-partisan, non-profit ethics watchdog American Oversight expressed concern in a letter last Friday that the Department of Justice and Whitaker had "failed" to share financial disclosure reports that are required to be made public. The group said that Whitaker, who was former Attorney General Jeff Sessions' chief of staff, would have been required to file a public financial disclosure form months ago.
"Matthew Whitaker was reportedly appointed Chief of Staff to Attorney General Jeff Sessions on October 4, 2017. As a non-career Senior Executive Service appointee at the Department of Justice, Mr. Whitaker is a required public filer. Consequently, the latest possible deadline for him to file the required public financial disclosure, assuming he received two extensions for good cause shown, was February 1, 2018," the letter said. "As an incumbent of more than 60 days in a covered position, Mr. Whitaker was also required to file an additional annual public financial disclosure report by May 15, 2018, again with two possible 45-day extensions, so at most no later than August 13, 2018."
Attorney and former director of the United States Office of Government Ethics Walter Shaub, for one, responded to this by calling the "DOJ's refusing to release Whitaker's financial disclosure form […] illegal, unheard of and highly suspicious."
Well, the turning up of the heat on this matter appears to have worked.
CNN correspondent Laura Jarrett is reporting that Whitaker's financial disclosure forms are expected to be made public "as soon as today." She added that Whitaker did file an initial disclosure form, but the filing has "undergone revisions."
The aforementioned Walter Shaub commented on the prospect of the release of these forms by saying that the "electronic filing system for disclosures notes the date of any change to a form."
He suggested that if the revision note (which does not indicate if information was added to or removed from a form) "shows they made changes after the date of our request [for the form], we'll know they weren't telling the truth."
[Image via Nicholas Kamm/AFP/Getty Images]
Have a tip we should know? [email protected]