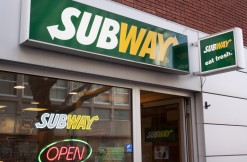 Stop everything you're doing! This is important news. More important than Leonardo DiCaprio finally winning an Oscar. A federal judge approved Thursday the settlement of a class-action lawsuit against Subway. Plaintiffs claimed the restaurant's "footlong" sandwiches were actually shorter.
It started when an Australian teenager put a picture of an 11 inch Subway sandwich on Facebook in 2013. This prompted a report by the New York Post, which discovered that a sample of footlongs they purchased were only 11 to 11.5 inches.
"This [settlement] allows us to move forward, without distractions, on our goal to provide great tasting sandwiches and salads, made exactly as each guest likes," Subway said in a statement. As part of the settlement, they'll make sure their baked bread is at least 12 inches long. Franchisees would be required to use a ruler or the like.
The judge for the U.S. District Court Eastern District of Wisconsin, Lynn Adelman, wrote Thursday that the plaintiff's attorneys realized the allegations "were quite weak." They'd discovered that the restaurant uses dough sticks that all weigh the same, but vary in final size after getting baked. Even if the short bread size led to fewer toppings, Adelman wrote, customers could always ask for more.
"Thus, the plaintiffs learned that, as a practical matter, the length of the bread does not affect the quantity of food the customer receives," Adelman wrote.
Doctor's Associates, parent company for Subway, is giving the plaintiffs $520,000 for attorney fees, and $500 each for 10 customers who thought their sandwiches were too, too short.
"It was difficult to prove monetary damages because everybody ate the evidence," said Thomas Zimmerman, one of the plaintiffs' attorneys.
[h/t Associated Press]
[image via Shutterstock]
–
Follow Alberto Luperon on Twitter (@Alberto Luperon)
Have a tip we should know? [email protected]