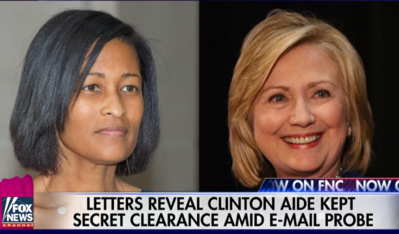 A new report on Monday that longtime Hillary Clinton aide, Cheryl Mills, kept her top secret security clearance despite sending classified information to the Clinton Foundation and to Clinton's private e-mail server has some current and former Intelligence Community and State Department personnel deeply concerned that a double standard is at play as it relates to the investigation into Clinton's e-mail.
According a Fox News report, in her position as Clinton's State Department chief of staff, Mills often forwarded e-mails to Clinton's personal account, including a Jan. 23, 2011 e-mail that contained classified information, as well as foreign government information that is considered "born classified."  Under normal circumstances, intelligence officials say it is standard practice to suspend a clearance pending the outcome of an investigation, yet Mills was allowed to maintain her top secret security clearance, according to congressional letters obtained by the network.
When asked about the issue, Dan Maguire, a former strategic planner with Africom, told Fox News:
"Had this happened to someone serving the government, their clearance would have already been pulled, and they certainly would be under investigation.  And depending on the level of disclosure, it's entirely possible they would be under pretrial confinement for that matter.  There is a feeling the administration may want to sweep this under the rug."
The State Department is scheduled to release the final batch of Clinton's e-mails later on Monday.  Stay with LawNewz for complete coverage of the final release.
[h/t Fox News; image via screengrab]
Have a tip we should know? [email protected]