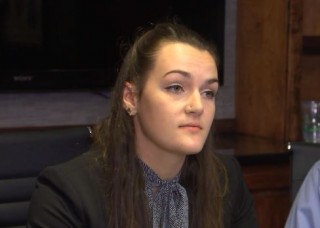 University of North Carolina student Delaney Robinson has gone to the media and the court, after prosecutors and her school wouldn't go forward with her claim that she was raped by a college football player. Robinson, a sophomore at UNC-Chapel Hill, claims a fellow student raped her on Valentine's Day, after she had been drinking. She, her family, and her attorney issued statements on Tuesday, bringing attention to the matter after she claims law enforcement officials didn't take her seriously.
Robinson's lawyer, Denise Branch of the Stuart Law Firm, said that after the alleged rape, Robinson reported the incident, went to the hospital, and had a rape kit taken. Branch said that her client's physical exam showed "injuries consistent with blunt force trauma and bruising consistent with a physical assault." But despite that, she says neither the university nor the Orange County District Attorney's Office went forward with the case. Branch stated that the school's Title IX office concluded an investigation months ago but never gave a decision. The DA's Office allegedly told her "unconsciousness is rape, black out drunk is not rape." This is despite Robinson's claim that she did not consent to having sex. Orange County District Attorney Jim Woodall told the local ABC affiliate that the matter was "investigated thoroughly."
Nevertheless, instead of pursuing charges against the accused, Branch told the media, "They treated her like the suspect."
Robinson told reporters that an investigator with the university's Department of Public Safety asked her what she was wearing, what and how much she drank, if she had led the man on or engaged in sexual activity with him in the past, and how many men she had previously slept with. Meanwhile, she said, the school told the alleged rapist that he had nothing to worry about, and to "just keep on living your life and playing football."
"I did everything a rape victim is supposed to do," Robinson said. "But six months later, the university has done nothing." In the meantime, she says she sees the football player every day on campus, and it's difficult.
Fortunately for Robinson, North Carolina law allows her to take matters into her own hands, to a degree. Citizens are allowed to go to a magistrate judge and apply for an arrest warrant on misdemeanor charges. So on Tuesday, Robinson went to court and secured a warrant for misdemeanor sexual battery and misdemeanor assault. Without law enforcement officials behind her, felony charges are not likely.
Have a tip we should know? [email protected]