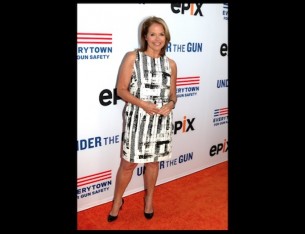 Earlier this year we reported on the backlash surrounding a controversial gun control documentary, Under the Gun, produced by Katie Couric.  Much of the backlash stemmed from a scene where Couric asked members of the Virginia Citizens Defense League (VCDL) a question about background checks.  In the final edit, additional time was added between the question and the response, making it appear as though the VCDL members were stumped by the question.  On Tuesday, the VCDL announced they have now filed a lawsuit in a Virginia federal court against Couric and other members of the documentary production team over the way they were portrayed in that scene.
"As you have probably heard and has been widely reported in the media, the 'documentary' contains manipulated footage that makes it look like we were stumped by a question on background checks, when in reality, we immediately began responding," the group said in a statement accompanying the announcement of the lawsuit.
The group also said it hopes accomplish three goals by filing this lawsuit:
· Hold the filmmakers accountable for misleading audiences and misrepresenting us.
· Compensate the VCDL and the VCDL members who were harmed by the film.
· Set the record straight.
The complaint alleges defamation and seeks $12 million in damages. First Amendment attorney Floyd Abrams said the following about the lawsuit's chances:
That there are serious journalistic issues about the piece is undeniable. But libel law doesn't exist to resolve public policy disagreements or even to assure fairness in the coverage of those disagreements. A journalistic sin is sometimes a legal one as well—but often not. So the core legal issue in this case is not whether the segment of the broadcast at issue was fair but whether, as a result of the editing, it defamed the VCDL and two of its members. On that issue, I would think the VCDL itself likely has a difficult case to prevail in and that the individuals who have sued have a better one, but still one that's not without difficulty.
We reached out to Couric's reps and will update this post if we receive a reply.
Have a tip we should know? [email protected]