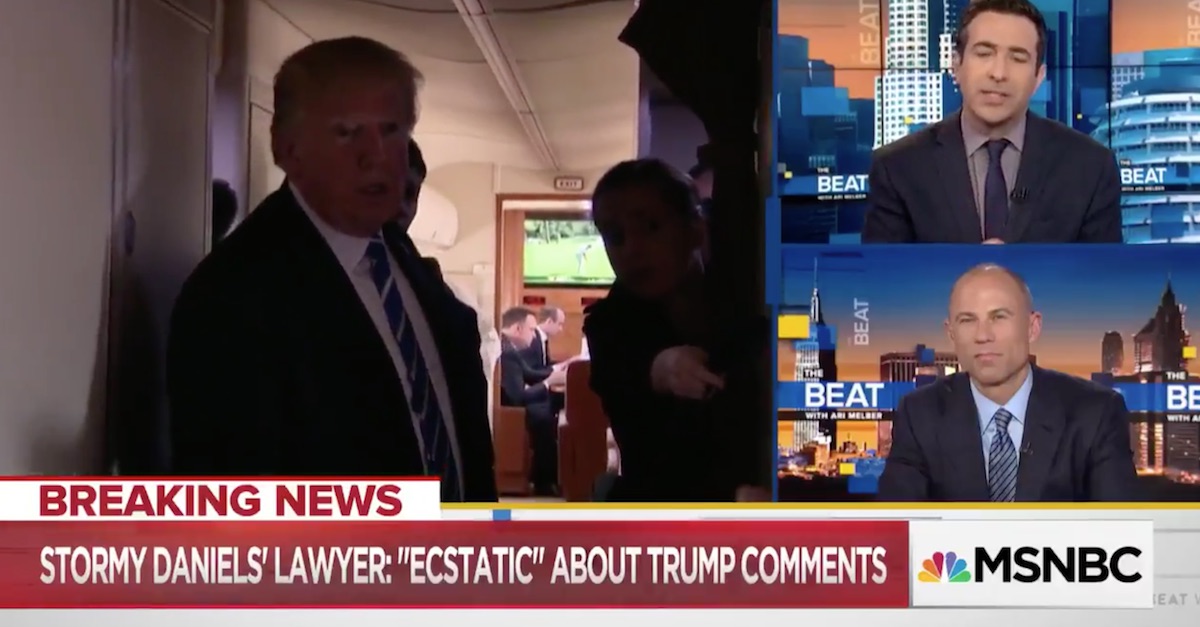 Stormy Daniels' attorney Michael Avenatti was on TV almost immediately after President Donald Trump made his Air Force One comments denying that he knew anything about a $130,000 payment to Daniels.
Avenatti was clearly paying attention closely because he was already aware of one of the under-the-radar moments of the Trump Q&A session, namely that he apparently ignored a question about setting up a fund for Cohen to draw cash from.
This was noted by both Wall Street Journal White House reporter Rebecca Ballhaus and initially by CNN.
"Trump ignored a question on whether he ever set up a fund of money that Cohen could draw from," she tweeted. CNN also used the same word — "ignored" — but now the article says Trump "denied" it.
"He said he didn't know where the money came from, and denied he set up a fund for Cohen to draw from in making the payment," Kevin Liptak's article now reads.
At least one other White House correspondent reported it as "ignored."
Avenatti wondered aloud on MSNBC host Ari Melber's show about the fund question and Trump not acknowledging that it was asked. He said it was "interesting" that Trump "denied subsequent questions."
"Well, I think it's interesting he denied subsequent questions," he said. "I don't know if you have that, but my understanding is that he denied a couple subsequent questions as to whether he had set up a fund from which this payment would be made or reimbursed."
"I find that quite interesting," he added.
Avenatti said that this is a topic he is going to explore in connection with a Trump deposition, which he said he will make a petition for on Monday.
[Image via MSNBC screengrab]
Have a tip we should know? [email protected]