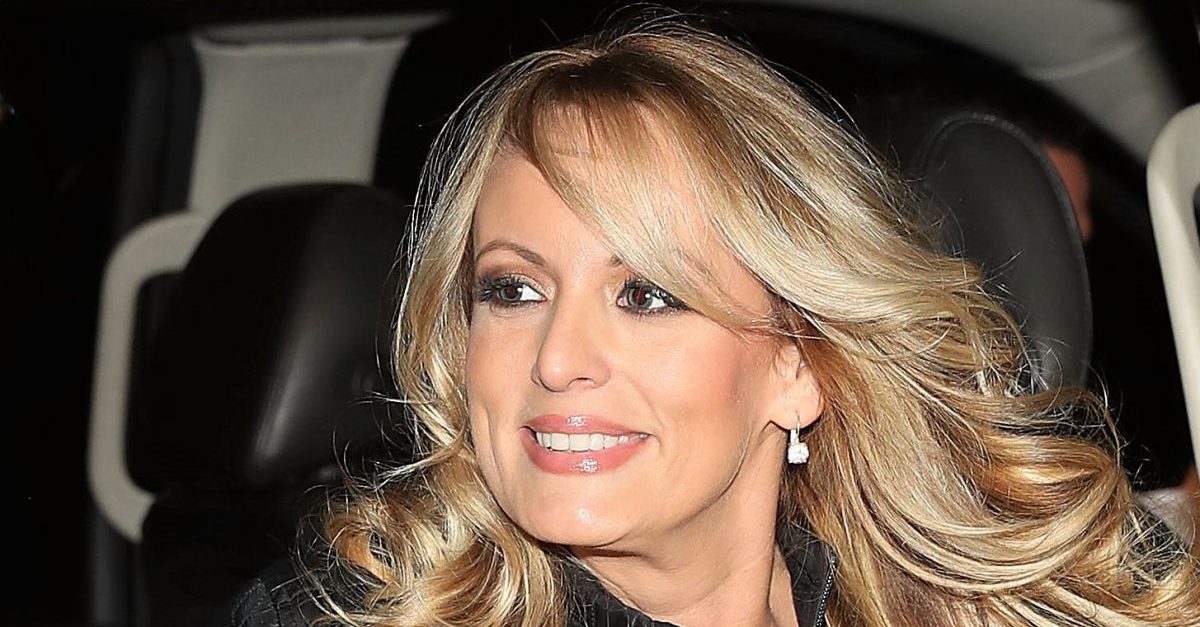 Stormy Daniels' attorney Michael Avenatti filed a motion in California federal court on Sunday, again asking for a quick trial, and depositions of President Donald Trump and lawyer Michael Cohen in the case over Daniels' nondisclosure agreement (NDA) regarding an affair she alleges she had with Trump in 2006. This is the second such motion that Avenatti has filed, after Judge S. James Otero denied a previous one on procedural grounds, with some choice words for Avenatti's request for expedited treatment.
When the court denied Avenatti's previous motion, it included a footnote that seemed to take issue with the idea that the case deserved to be expedited, given the court's busy schedule. While Avenatti again requested expedited discovery and an expedited jury trial, he did include a footnote of his own, humbly explaining that he did not expect preferential treatment for his client:
Plaintiff recognizes the incredible amount of work and demands that are placed on this Court by way of the Court's docket and its caseload. By way of this motion, Plaintiff is not suggesting in any way, shape or form that she believes this case is entitled to special treatment or that the claims in this case are deserving of an inordinate amount of attention from the Court.
A major point of contention in the case is the agreement's arbitration clause, which Cohen included to keep any and all disputes over the NDA out of the court system. Because Avenatti claims that arbitration clause itself is invalid, he's arguing that the case should go before a judge. His initial motion failed, however, because Cohen had yet to exercise the arbitration clause, so it was too early to fight it. Since then, Cohen has officially filed to move the case into arbitration, so Avenatti is now trying again.
The main issues in Avenatti's first request were whether Trump knew about the agreement and the $130,000 payment to Daniels at the time the deal was made, what — if any — role Trump played in it, where the money really came from, and whether it was meant to benefit Trump's campaign. One issue that Avenatti brought up, that was also the basis for a recent complaint before the Federal Election Commission, is that if Trump was aware of the deal and payment at the time (days before the 2016 election), it may be considered an in-kind campaign contribution. If it was a contribution, it might violate federal campaign finance laws for not being reported to the FEC, and for exceeding that maximum amount permitted for contributions.
Cohen has repeatedly insisted that Trump had nothing to do with the payment, and that the money came from him personally. This prompted Avenatti to say in his new motion, "the question naturally arises as to how it would be possible for a 'meeting of the minds' to have occurred between parties where one of the parties does not even know about the existence of the agreement?"
Cohen claims that Trump was not, in fact, a party to the agreement, which he says was between Daniels and Essential Consultants, LLC, the company that made the payment using Cohen's money. Still, Trump is named as a party in the agreement, and the arbitration clause only referred to disputes between Daniels and Trump, with no mention of Essential Consultants.
Indeed, Trump never even signed the agreement, which is another reason Avenatti uses in arguing that the agreement is invalid. He also claims that it's invalid because it aims to cover up unethical legal practices by Cohen, and Trump's adultery. Avenatti points out that adultery is still technically a crime in New York, even though the alleged affair was not in New York.
Because there are so many questions regarding the nature of the agreement, its formation, and its legal implications, Avenatti argues that depositions of Trump and Cohen are necessary.
Law&Crime reached out to the attorneys for both Cohen and Trump but have not received responses at this time.
Clifforf v Trump Renewed Motion by LawNewz on Scribd
[Image via Joe Raedle/Getty Images]
Have a tip we should know? [email protected]