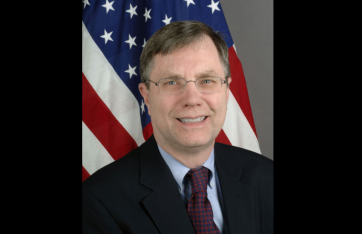 A transcript of the deposition testimony of State Department Undersecretary for Management Patrick Kennedy was released on Thursday by the conservative legal watchdog group Judicial Watch.  Kennedy provided testimony as part of Freedom of Information Act (FOIA) lawsuit that seeks to determine whether the State Department acted in good-faith in responding to FOIA requests about the employment status of one of Hillary Clinton's top aides, Huma Abedin.  As has been the case with other witnesses, Kennedy did not recall much about Clinton's use of a private email server despite testifying that Clinton was the only secretary of state to ever email him in his 40-years at the State Department.
Kennedy testified that the traditional way secretaries of state had communicated with other State Department staff was through regular in-person meetings and briefings.  He added "action memos" and other written means were also traditionally used by the secretary of state during his 40-year career at the State Department.  No other secretary of state had ever sent Kennedy an email, yet he testified that he found nothing unusual about receiving emails from then Secretary of State Clinton.
As Undersecretary for Management, Kennedy oversaw three of the four departments that had responsibility for ensuring State Department policies and procedures were followed.  However, he refused to express an opinion as to whether he believed Clinton's use of a private email server violated State Department policy.  Kennedy would only say that State Department personnel are "encouraged to use state.gov addresses."
Despite receiving emails from Clinton, Kennedy also testified that it never occurred to him that she might have a significant amount of State Department records in her possession until reading the March 2015 New York Times story about her private email server.
Kennedy is the seventh person Judicial Watch has questioned under oath about Clinton's use of a private email server.
Have a tip we should know? [email protected]