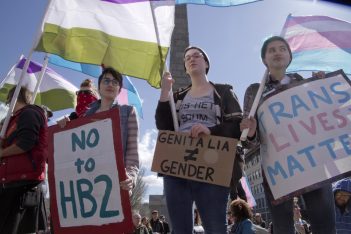 Lawmakers in North Carolina held special legislative session on Wednesday to take up the matter of HB2, better known as the "Bathroom Law."
Outgoing Governor Pat McCrory issued a proclamation on Tuesday, calling all state lawmakers to return to the North Carolina State Capitol building on Wednesday to debate the repeal of HB2, officially titled the Public Facilities and Privacy Security Act.
According to local reports, there were 105 state legislative members present when the special session got underway earlier this morning.  However, both the state house and state senate called a recess around 11:00 a.m. and eventually reconvened early in the evening.
Upon reconvening, the House apparently voted to adjourn without taking any action on the proposed repeal measure, instead leaving it to the state senate to keep hope of any action during Gov. McCrory's special session alive.
According to WRAL.com in Raleigh, there is a great deal of distrust among Democrats and Republicans about who is backing out of deal and who is not keeping their word.   The fact that much of the "action" is apparently  taking place off the floor and out of public view makes it difficult to determine where matters stand.
The senate is still in special session as it heads into the later evening hours of Wednesday night, but progress in that chamber also seems to also be at a standstill.  Local reports indicate senators just went into recess again to discuss more matters off the floor.
LawNewz.com will continue to follow the latest news out of North Carolina and provide updates as they become available.
However, as things stand, it appears as though Gov, McCrory's special session may have accomplished nothing at all.
9:00 p.m. Update: 
The North Carolina Senate rejected a proposed repeal of the controversial HB2 law late Wednesday night by a vote of 16–32, according to local news reports.   Like the House earlier in the day, the state senate has now adjourned and the governors special session has seemingly coming to an end without accomplishing its intended goal.
Republicans and Democrats are both blaming each other for the failure to reach a compromise and a resolution on Wednesday,  although that likely does not come as a surprise given the highly partisan nature surrounding this bill since it's inception.
[image via J. Bicking / Shutterstock]
Have a tip we should know? [email protected]