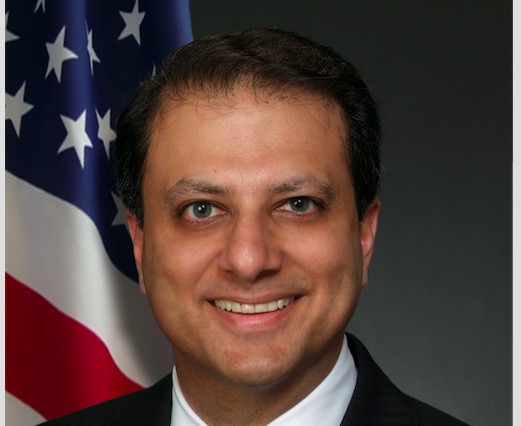 This morning, Fox News columnist Hans A. von Spakovsky called the national uproar over the firing of Preet Bharara, the (now former) U.S. Attorney for the Southern District of New  York,  a "phony scandal." It's certainly true that with any incoming presidential administration, most if not all U.S. Attorneys are asked to resign. The changeover is part of presidential transition and is absolutely routine and commonplace.  And yet, no matter what anyone at Fox or otherwise says, nothing about the firing of Bharara, aka "Sheriff of Wall Street" feels common. Perhaps that's because Bharara has been a larger-than-life character in jurisprudence from the time he was appointed in 2009. Bharara became a prosecutorial hero while securing life sentences against the Times Square bomber Faisal Shahzad, terrorist and Osama bin Laden son-in-law Sulaiman Abu Ghaith, and Guantánamo detainee Ahmed Khalfan Ghailani.
Bharara has also been an apolitical figure who has been a crusader against government corruption. Appointed by a Democratic president, he waged war on Democrats and Republicans alike, such as Sheldon Silver (the former Democratic State Assembly speaker) and Dean G. Skelos (the former Republican majority leader of the State Senate). Bharara also led a public inquiry into the sudden shutdown of the Moreland Commission, an anticorruption commission established by Governor Andrew Cuomo. Following his dismissal from the U.S. Attorney's Office, Bharara even referenced that commission in the following tweet:
By the way, now I know what the Moreland Commission must have felt like.

— Preet Bharara (@PreetBharara) March 12, 2017
During his almost eight-year tenure, Bharara most notably wielded the full power of the S.D.N.Y. against SAC Capital Advisors for insider trading, shutting down the hedge fund, and winning a $1.8 billion settlement. Bharara's aggressive prosecution of SAC Capital was not only a media event, but also inspired the hit Showtime drama Billions, starring Paul Giamatti as a Bharara-derivative aggressive U.S. Attorney for the Southern District of N.Y.
Billions producer Brian Koppelman tweeted the following after Bharara was fired:
You're a great man, Preet. An inspiration. Can't wait to see what's next.

Tech advisor + cameo??? https://t.co/iiqh2JVSUW

— Brian Koppelman (@briankoppelman) March 11, 2017
Given Bharara's role as guardian of New York justice, it wasn't surprising when, shortly after the presidential election, it was widely announced that Bharara would be keeping his position after the Trump transition.  But last week brought an about-face between the White House and the Southern District. The change would have been newsworthy simply in its suddenness, but Fox's cries of "phony scandal" are especially suspect in light of the network's own starring role in one of Bharara's investigations. As my LawNewz.com colleague Rachel Stockman explained, Bharara was reportedly knee-deep in an investigation of alleged fraud and illegal acquisition of reporters' phone records by none other than the Fox News executives themselves. The grand jury was impaneled, the witnesses were preparing to testify, and the prosecution had all but begun. The Fox op-ed's "nothing to see here, folks" attitude smacks of being what is actually "phony."
And Fox News is hardly the only one affected by the shake up in St. Andrew's Plaza. Last week, watchdog groups asked Bharara to investigate Trump's potential emoluments clause violations; plus, there's that small issue of Trump Tower being coincidentally within the jurisdiction of the SDNY. While Bharara's office hasn't been officially connected to any investigations of alleged wiretapping, the timing is certainly interesting. Elizabeth Warren certainly thought so, as she launched a tweetstorm:
Preet Bharara had authority over Trump Tower. @realDonaldTrump called him directly, breaching protocol. 24 hrs later he was asked to resign.

— Elizabeth Warren (@SenWarren) March 12, 2017
GOP & Dems respect Preet Bharara as a fearless prosecutor who stands up to both parties & Wall Street. I guess that's why Trump fired him.

— Elizabeth Warren (@SenWarren) March 12, 2017
The concurrent timing isn't even the only eyebrow-raising aspect of Bharara's firing; there's also the bizarre way it unfolded and the White House's attempt to characterize it as a non-event.  First, President Trump tried to call Bharara on Thursday and left a voice mail. Because Department of Justice Rules prohibit a U.S. Attorney from speaking directly to the president, Bharara called Trump's assistant and explained that he couldn't directly return Trump's call. Bharara then reported Trump's unorthodox call to Attorney General Jeff Sessions. On Saturday, phone calls then continued between Acting Deputy Attorney General Dana Boente and Bharara over Bharara's expected resignation. When Bharara refused to resign, he got a final "you're fired" call from Boente.  By Sunday, the White House spin doctors were working furiously. Spokeswoman Sarah Huckabee Sanders sent the following in an email, as reported by the New York Times:
"The president reached out to Preet Bharara on Thursday to thank him for his service and to wish him good luck."
Sure. I'm sure President Trump was simply calling to confirm Preet Bharara's address so that he could send a fruit basket. As long as that's what someone over at Fox says, I guess we shouldn't question it.
This is an opinion piece. The views expressed in this article are those of just the author.
Elura Nanos - Columnist & Trial Analyst, Law & Crime; CEO Lawyer Up