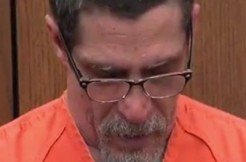 Bobby Hernandez's son forgave him for kidnapping him almost 14 years ago, but Law Newz founder Dan Abrams said that's not enough to make it all right.
"I love him, and I want him to be a part of my life," Julian Hernandez said at his father's sentencing hearing Wednesday.
The 19-year-old was 5 when dad abducted him from his mother's Alabama home amid a breakup, and took him to Cleveland where they lived under assumed names. At the hearing, Cuyahoga County Prosecutor Tim McGinty said the son lived a lie, thinking he was "abandoned by an unloving mother, when in fact the opposite was true."
Julian only discovered he was kidnapped when he had problems with his Social Security number while applying to colleges. Nonetheless, he said his father didn't deserve the lengthy sentence being demanded. He claimed he grew up well educated, well loved, and well-adjusted thanks to dad.
"The time I've spent with him is the only time I've ever truly felt at home and at peace," Julian said.
The hearing went in the older Hernandez's favor, who only received a four year prison sentence followed by a five-year term of probation. It's actually a big win for the defense since he faced up to 54 years behind bars after pleading guilty in March to multiple charges, including kidnapping, interference of custody, tampering with records, and forgery.
But the light sentence, and scope of the father's crimes brought forth criticism from Law Newz founder Dan Abrams.
"If we judge these kinds of cases by what happens to the kid later, that sends the message that 'You know what, kidnap your kid if you need to, figure it out later," Abrams told Good Morning America in a Thursday report. "If you can turn your kid into a great kid, then it's okay."
Abrams said Hernandez should've gotten a longer sentence considering the significant heartbreak felt by Julian's mother.
"During my darkest moments, I considered suicide," the mother said in a letter read by attorney Gloria Allred in court.
Hernandez was sentenced by an Ohio state court, and still faces possible charges in Alabama, where the kidnapping occurred.
[h/t ABC and CBS News]
[screengrab via ABC]
–
Follow Alberto Luperon on Twitter (@Alberto Luperon)
Have a tip we should know? [email protected]