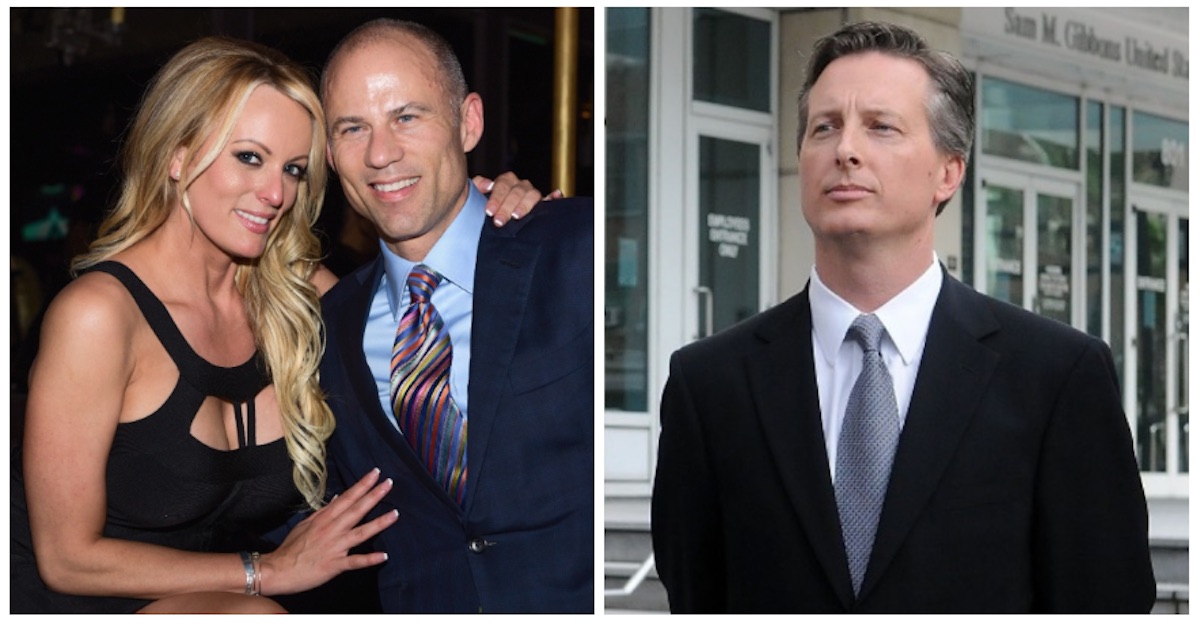 Trump attorney Joanna Hendon filed an email thread in New York on Friday as directed by Judge Kimba Wood, calling into question Michael Avenatti's statements that the California bankruptcy judgement against Eagan Avenatti is "irrelevant" and had nothing to do with his client Stormy Daniels. Judge Wood is presiding over the matter against Michael Cohen in the Southern District of New York.
In that email thread was also a pretty amusing back-and-forth from April between Trump lawyer Charles Harder (who famously represented Hulk Hogan in the case that ended Gawker) and Avenatti about the need to be physically present for a meet and confer, plus general disdain for the suckiness of Los Angeles traffic.
Avenatti says that "we dealt with the traffic" to be physically present at a meeting and made phone accommodations, so it would only be fair if this time a meeting happened at his office:
This is not acceptable. You are the one that has made these meet and confers a much larger issue than they needed be – going so far as to raise them with the Court in a very public manner. Accordingly, it is not acceptable for you to now refuse to meet and confer in person. You demanded this and now need to act accordingly. We went through the inconvenience to come to your office the first time – we dealt with the traffic. It was agreed that the next meet and confer would be in our office, which is only equitable. We then accommodated you by phone out of courtesy for your trial (with Mr. Harder failing to participate) You repaid that favor by filing baseless attacks against me on the public record. You followed that up with your recent objection, by which you again attempted to soil us with the Court and defeat our motion by technicality. To be clear, if the meet and confers are important enough for you to attack us not once but twice, then they are important enough for you to comply with the Court's Order. We will expect to have at least one attorney present from each party at our office for the meet and confer. If you would like to participate by phone, we have no objection provided another lawyer representing your client is present. The same holds true for Mr. Harder. Please let us know what time works.
Harder agrees that Southern California traffic is a real drag, but says don't worry; if it means that much to you, he'd gladly host at his office in Beverly Hills.
Mr. Blakely is available to drive down to your office today, for a meeting around 12 noon. I am available to call into the meeting at that time. My office is much further away from yours than Mr. Blakely's, and my schedule today does not allow me to spend three hours in Southern California traffic, for what will probably be a 30-40 minute meeting. Would you mind if I participated by telephone? If you insist on a meeting with everyone physically present, I can host the meeting at my office in Beverly Hills. Also, will you be physically present at the meeting? Because you were not present at the last in person meeting – you called into the meeting, where Mr. Blakely and I were both physically present. Thank you.
Now that we've got these amusements out of the way, let's address the meat of the story.
Hendon's filing shows that Avenatti and another attorney, Ahmed Ibrahim, were using Eagan Avenatti email addresses and email signatures while engaged in a discussion about setting up a meeting with Trump attorneys, rather than an email or signature for the firm Avenatti & Associates, APC.
As Courthouse News' Adam Klasfeld pointed out, Hendon said Wednesday that Avenatti was being "misleading with the court" and raising questions about his credibility.
Avenatti told Law&Crime that this discrepancy had a simple explanation.
"Old news. Check the docket as to which firm represents Ms. Clifford. We simply used the wrong signature block," he said.
We looked at the docket of a filing from March in California and it does indeed show that Avenatti & Associates, APC is representing Daniels.
Avenatti also denied Hendon's statement that there has been any "misrepresentation."
"There was no misrepresentation. But I very much look forward to Ms. Hendon and her client living by the same standard she articulated. Has he ever lived by that standard?" he said.
Avenatti has called the association of the Eagan Avenatti judgement with the Daniels case "nonsense" and "sensational reporting at its finest."
Law&Crime has also reached out to Ibrahim for comment.
Avenatti on Wednesday withdrew his motion to appear pro hac vice in the matter against Michael Cohen in New York, promising to refile if necessary.
[Images via Tara Ziemba/Getty Images, Gerardo Mora/Getty Images]
Have a tip we should know? [email protected]