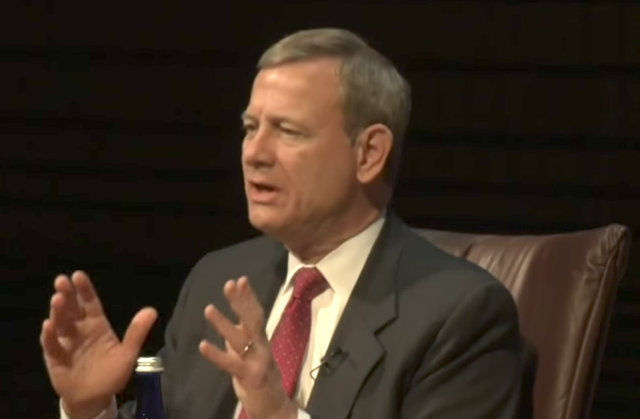 Judging by Chief Justice John Robert's comments on Tuesday, he seems skeptical in a case over whether gerrymandering can get too political.
Roberts in Gill v. Whitford worries that redistricting would be taken away from democracy and thrown to courts "pursuant to . . . sociological gobbledygook." pic.twitter.com/BL4NGJtZ4F

— Derek T. Muller (@derektmuller) October 3, 2017
Oral argument for the case, Gill v. Whitford, happened at the court Tuesday. Democratic voters in Wisconsin say Republican lawmakers in the state drew district lines to disproportionately benefit GOPers. They argue this is unconstitutional. Republicans say judges should say out of this. This is a political matter.
The Supreme Court has heard this question before, but their decision left so much unclear. In 2004's Vieth v. Jubelirer, justices didn't even settle on a majority. A four-member plurality led by the late Antonin Scalia agreed that courts shouldn't be involved in this sort of redistricting matter. A fifth justice, Anthony Kennedy, partially agreed in his concurring opinion. He argued there remained no good way to measure if a district was truly drawn in an overly political, unconstitutional way. But he was open to seeing a test that could get the job done.
"If workable standards do emerge to measure these burdens, however, courts should be prepared to order relief," he wrote.
On Tuesday, Samuel Alito joined Roberts in voicing skepticism about the Dems' proposed test, called the efficiency gap.
"Has there been a great body of scholarship that has tested this efficiency gap?" Alito said in court. "It's full of questions."
Kennedy didn't seem to give any indication during oral argument about his attitude, largely just asking lawyers for clarification.
Ideology aside, the court has changed quite a bit since 2004. Only Kennedy, Clarence Thomas, Ruth Bader Ginsberg and Stephen Breyer remain. Thomas joined Scalia's opinion in Vieth, while Ginsberg and Breyer dissented.
[Screengrab via Rensselaer Polytechnic Institute]
Have a tip we should know? [email protected]