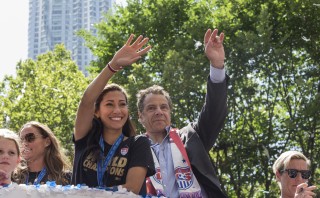 On Tuesday, a state appeals court in Washington denied the bid of Hope Solo, the goalkeeper for the US Women's Soccer team, to get the domestic violence charges against her thrown out. The charges stem from a 2014 incident in which she allegedly beat up her sister and her then 17-year old nephew while intoxicated, according to ESPNW.  Originally, the charges were thrown out of a municipal court on procedural grounds.  However, prosecutors appealed and the case against her was reinstated.  Solo attempted to get a discretionary review to once again throw the charges out, but the state appeals court denied her claim, according to KING5 news.
Solo is the goalkeeper for the United States Women's National Soccer team, which has been extraordinarily successful in recent years.  The team has won the past 3 Olympic gold medals in Women's Soccer. Solo was in the goal for the last 2.  They also won the 2015 FIFA Women's World Cup also with Solo in goal.  In addition, Solo has been in the news recently for speaking up about the Zika virus and the upcoming Olympic games in Rio De Janeiro, Brazil this summer.
Solo has the ability to challenge the ruling of the state appeals in court in the Washington State Supreme Court.  However, it is still unclear whether she will attempt to appeal the decision.
Have a tip we should know? [email protected]