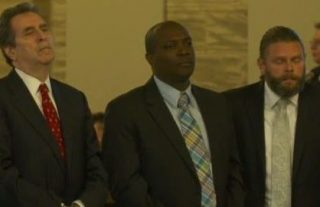 Nearly five years after the death of 12-year-old Garrett Phillips, a judge found Oral "Nick" Hillary not guilty at the conclusion of a trial in St. Lawrence County, New York. Despite a lack of hard evidence against him, Hillary was charged with murder, having previously been romantically involved with Phillips' mother, Tandy Cyrus.
Hillary's car was spotted at a location where Phillips had been walking soon before he was strangled to death. Hillary, a former soccer coach at nearby Clarkson University, was not arrested until two and a half years later, despite being considered a suspect earlier. He publicly maintained his innocence.
Judge Felix Catena decided the case, because Hillary elected to have his case heard in a bench trial instead of by a jury. When announcing the sentence, Judge Catena commented on how "the case against the defendant is based entirely on circumstantial evidence," which required a "rigorous standard." That standard is that to find Hillary guilty, the evidence would have to "give rise to an inference of guilt beyond a reasonable doubt," that inference would have to be the only inference that can "fairly and reasonably be drawn from the facts," and  "[exclude] beyond a reasonable doubt every reasonable hypothesis of innocence." Since Judge Catena did not believe the evidence met that standard, he declared Hillary not guilty.
Hillary told ABC News after the verdict was announced, that after Phillips' death, he wished he could have comforted Cyrus and her other son. "I continue to pray for the family," he said. Hillary also lamented not being able to fully grieve for the boy, because he was put on the defensive once he became a suspect.
ABC News reported that Hillary's attorney, Norm Siegel, reacted to the acquittal by saying, "Nick knew he was innocent and had faith in the system," and that for his client, this "ends on a positive note."
[Screengrab via ABC News]
Have a tip we should know? [email protected]