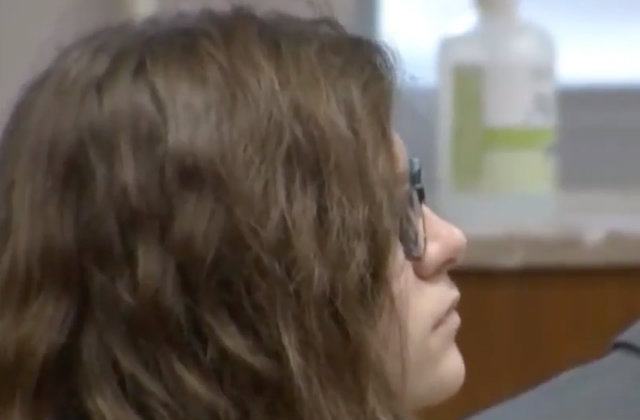 Jurors in Waukesha County, Wisconsin say 15-year-old Anissa Weier shouldn't serve prison time for the stabbing of a classmate in 2014. Instead, she will be committed to a mental hospital for at least three years. They came to the conclusion after deliberating all Friday until about 11 pm at night.
The defendant admitted to playing a role in attempted second-degree intentional homicide, and pleaded guilty in a deal with prosecutors in August. The questions for the jurors was weather she was mentally ill or not.  Her legal team successfully argued that she truly thought she was serving as a proxy for a supernatural creature called the "Slender Man." She believed he would hurt her and her family if she didn't help commit murder.
"This was a delusion strong enough to kill for," defense lawyer Maura Ann McMahon said in her closing argument. Weier shouldn't go to prison, the legal team insisted. She needs help.
This argument carried the day.
Prosecutors said that when she was 12, she and co-defendant Morgan Geyser lured a classmate to a park. The victim survived getting stabbed 19 times. The state said Weier complied with the Slender Man story and the murder plot for the sake of her friendship with the co-defendant. "Anissa told [court-appointed psychologist Dr. Melissa Westendorf] that she didn't want Morgan to feel crazy, so she said yeah," Waukesha County Deputy District Attorney Ted Szczupakiewicz said during closing arguments. Had she been convicted, she would have spent at least 10 years in prison.
Both Weier and Geyser were originally charged with attempted first-degree intentional homicide. Geyser, who is accused of doing the stabbing, pleaded not guilty, and her trial is scheduled to begin Oct. 9.
EDITOR'S NOTE: CORRECTION Anissa Weier entered a guilty plea to second degree intentional homicide as part of her deal with prosecutors. The story has been changed to reflect that fact. 
[Screengrab via LawNewz Network]
Have a tip we should know? [email protected]