Controversial Milwaukee County Sheriff David Clarke is now the defendant in a lawsuit alleging he unlawfully detained a man after a flight from Dallas to Milwaukee.
Dan Black claims, in a lawsuit obtained by LawNewz, that Clarke confronted him on a flight and asked if he "had a problem" but the two allegedly had no further interaction during the flight.
Once the flight arrived in Milwaukee, Black alleges that Clarke and several deputies interrogated him and threatened to arrest him. Clarke says there is much more to the story.
Following the airport incident, Black filed a complaint with Milwaukee County about Sheriff Clarke alleging misconduct. Black says following the complaint Sheriff Clarke responded by "threatening" him on social media with this post and an "offensive" meme: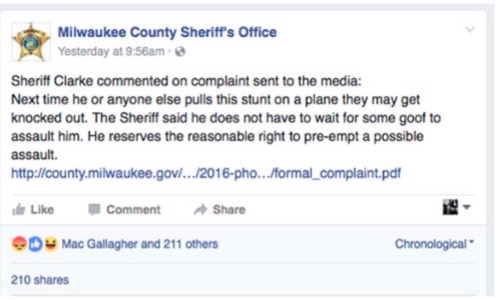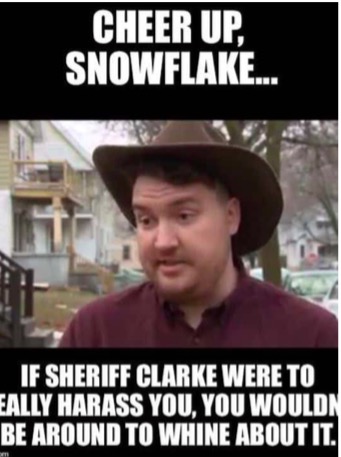 Sheriff Clarke's office wrote on Facebook that "Next time he or anyone else pulls this stunt on a plane they may get knocked out. The Sheriff said he does not have to wait for some goof to assault him. He reserved the reasonable right to pre-empt a possible assault."
The lawsuit filed Thursday alleges that "Sheriff Clarke published . . . statements to give a false impression of what occurred on the airplane and to damage Black's reputation,."
Furthermore, Black also alleges, "Sheriff Clarke also published . . . statements to incite violent verbal assaults against Black, which has happened."
Black's attorney William Sulton issued a brief statement to LawNewz regarding filing of the lawsuit:
Today, I filed a lawsuit against Sheriff David Clarke to hold him accountable for unlawfully stopping and arresting Dan Black. A couple of weeks ago, Mr. Black filed a complaint with Milwaukee County. It was Mr. Black's hope that the county would investigate the matter and impose appropriate corrective measures. Sheriff Clarke, however, responded to the complaint by threatening Mr. Black with violence and encouraging others to follow suit. Sheriff Clarke also refused to cooperate with the investigation and ordered his subordinates to do the same. It is clear that only the courts can rein in Sheriff Clarke.

This was a gross and arbitrary abuse of power. Civil and constitutional rights are vain unless they are protected and defended. That is exactly what this lawsuit will accomplish.
The Sheriff's office told a local media outlet that they do not comment on pending litigation.
This is a breaking story and additional information will be added as it becomes available.
Read the Lawsuit:
Daniel Black v. David Clark by LawNewz on Scribd
Have a tip we should know? [email protected]