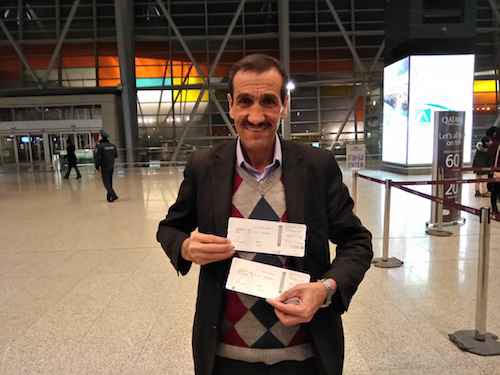 The federal government obeyed a federal court order and allowed a man with a valid U.S. visa to return to the United States after deporting him under President Donald Trump's travel ban.
Ali Vayeghan is the first person to return to the United States pursuant to a U.S. court order since he and other immigrants with valid visas were ejected under the Jan. 27 Trump travel ban, according to the American Civil Liberties Union Foundation of Southern California
Vayeghan arrived back at the Los Angeles International Airport Thursday afternoon, four days after a Los Angeles federal court ordered him returned to LAX, according to the ACLU.
Vayeghan, an Iranian citizen, had been vetted by U.S. officials and granted a valid visa in October 2016 to travel to Los Angeles, which was months before President Trump issued his executive order banning travel from Iran and six other Muslim-majority countries.
When Yayeghan first landed at LAX on Jan. 27 from Tehran, he was detained overnight by U.S. Customs and Border Protection and forcibly removed from the country, just hours after President Trump's executive order was signed.
The ACLU and the Law Offices of Stacy Tolchin filed an emergency lawsuit Jan. 28 seeking Vayghan's return.  The next day, U.S. District Judge Dolly Gee of the Central District of California in Los Angeles issued an order requiring the federal government to release and/or return Vayeghan to Los Angeles.
Judge Gee is one of six federal judges who issued different orders across the nation temporarily staying parts of the Trump travel ban over the last several days.
Nearly 40 lawsuits have been filed in courts across the country challenging the legality and enforcement of the Trump executive order.
The ACLU lawsuit and many of the other lawsuits contend that the Trump order violates the First Amendment protection of freedom of religion, the Religious Freedom Restoration Act (which protects religious views or status from a "substantial" government burden), the Immigration and Nationality Act (which prohibits immigration discrimination based on nationality), and the Immigration and Nationality Act (protection of immigrants with legal U.S. visas and approved status as legal permanent residents).
Vayeghan obtained a U.S. visa on October 27, 2016 on the basis of a petition filed by his son, a U.S. citizen, who lives in Indiana. Based on his visa, Vayeghan  is scheduled to receive a green card in the mail and could seek to become a naturalized U.S. citizen five years later.
He sold his business and assets in Iran in anticipation of immigrating to the United States to join his son.
Had Vayeghan not been allowed to return to the U.S., his visa would have expired on Feb. 14, 2017.
[Photo credit: Ali Vayeghan in transit via Yerevan (Photo: Gabriel Armas-Cardona)]
Update 6:00 EST: Vayeghan arrived back in the United States. This article has been changed to reflect that. 
Have a tip we should know? [email protected]