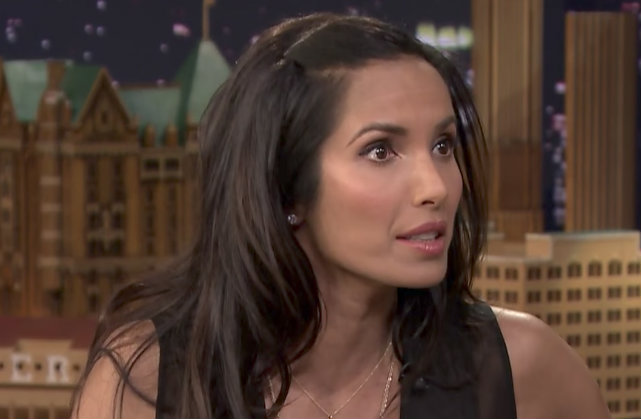 BOSTON (AP) — Padma Lakshmi, the host of the "Top Chef" reality TV show, testified Monday that she was "petrified" when a Teamster confronted her while union members were picketing outside a Boston-area restaurant where the series filmed in 2014.
Lakshmi, who is also an author and model, said she was a passenger in a vehicle outside the Steel & Rye restaurant in Milton, just south of Boston, where a group of men had formed a line so vehicles could not move forward. She said one man leaned his arm on her door and said: " 'Oh, lookie here, what a pretty face' or 'What a shame about that pretty face.' "
"I felt he was bullying me," Lakshmi said. "I felt he was saying, 'I might hit you.' "
Lakshmi's testimony came during the federal trial of four members of Teamsters Local 25. The men have pleaded not guilty to charges of conspiracy to extort, and aiding and abetting.
Prosecutors allege they threatened and harassed the crew of the Bravo show's non-union production company. They claim the Teamsters were trying to shut down the filming of "Top Chef" if the show did not hire Teamsters to drive production vehicles. The show had already hired its own drivers.
Lakshmi said the man who spoke to her also shouted something "derogatory" to her driver.
"I could hear a lot of yelling, exchanges," she said. "They all seemed heated up."
Lakshmi said she does not have any role in hiring for the production company.
Gail Simmons, a judge on "Top Chef," also testified Monday, saying she was "incredibly afraid" as she arrived at the restaurant and saw the men block the vehicle's path.
"One of the men put his head into the van and started yelling at us," Simmons said.
Lawyers for the teamsters have said the men were merely exercising their right to picket for driving jobs. They've said "Top Chef" crew members escalated the incident in Milton.
[Screengrab via NBC]
Have a tip we should know? [email protected]