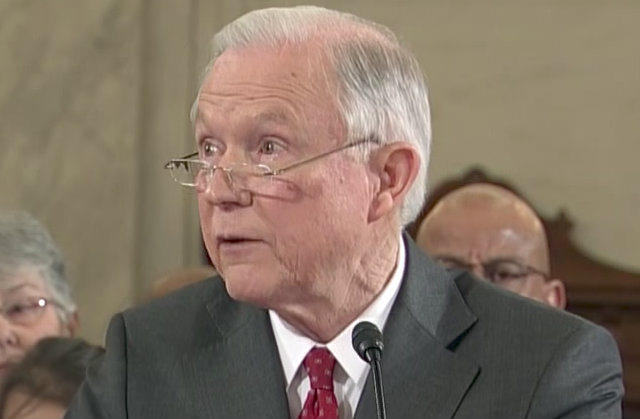 Attorney General Jeff Sessions will publicly testify before the Senate Intelligence Committee on Tuesday, but while he will field many questions about Russia's interference in the 2016 election, he may not answer all of them. He is expected to invoke executive privilege over at least some conversations with President Donald Trump, an ABC reporter said.
Source: Sessions not expected to answer Senate questions about talks he had w/ @POTUS before Comey's firing; expected to cite exec privilege

— Mike Levine (@MLevineReports) June 12, 2017
LawNewz.com has reached out to Department of Justice for comment, but they have not immediately responded.
Executive privilege, in which some executive branch communications can be secret even from Congress and the judiciary, is recognized by the Supreme Court, but this power isn't absolute.
The FBI and several Congressional committees, including Senate Intelligence, are investigating Moscow's interference. U.S. intelligence officials have said since December that Russia's goal was to help Trump win.  These probes have led to awful optics for the administration, if nothing else, after James Comey said in March that the feds are looking into whether the President's campaign colluded with these efforts.
Sessions recused himself from involvement in the federal investigation after he didn't disclose two meetings he had with Russian ambassador Sergey Kislyak. Scrutiny intensified in May, when Trump fired Comey, ostensibly on Sessions' recommendation and that of Deputy Attorney General Rod Rosenstein. (The President has since said he had made up his mind by the time he sought their input.)
Sessions defended his meetings with Kislyak, saying these happened when he was a U.S. Senator. It was all part of his regular job. On top of that, when a CNN report said Congress was investigating an undisclosed third meeting with a Kislyak, a DOJ spokeswoman denied that claim, too, in no uncertain terms.
As these investigations remain ongoing, no substantive evidence exists that shows the Trump campaign worked with Moscow. Rosenstein has appointed former FBI Director Robert Mueller to head the federal probe as special counsel.
[Screengrab via C-SPAN]
Have a tip we should know? [email protected]