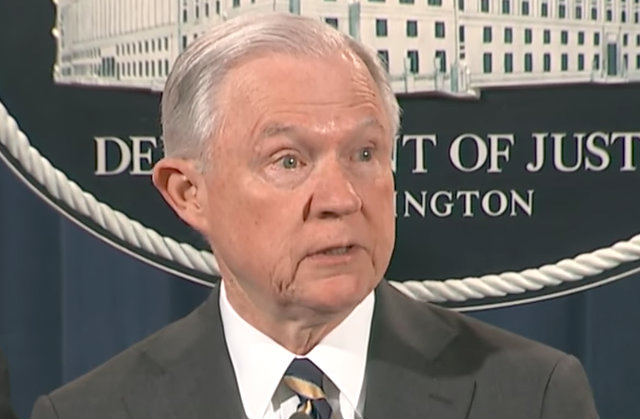 There has been a shift in the language that the U.S. Department of Justice is using in its press releases and official announcements, and it's not sitting well with some. The DOJ, under the leadership of Attorney General Jeff Sessions, has begun using the term "illegal aliens" to refer to immigrants who do not have the proper paperwork to be in the United States. Last week, in announcing stricter rules for so-called sanctuary cities, a DOJ announcement said, "So-called 'sanctuary' policies make all of us less safe because they intentionally undermine our laws and protect illegal aliens who have committed crimes."
The DOJ also sent this press release out last month:
06/29/2017 12:00 AM EDT

Today Attorney General Jeff Sessions met with families who have lost loved ones because of crimes committed by 

illegal

 

aliens

. In the meeting they discussed the progress being made by the Trump Administration to strengthen laws protecting Americans from crimes committed by 

illegal

 

aliens

 and, the need to keep working to ensure that federal immigration laws are enforced.
Advocates for immigration reform contend that the term "illegal" is a "racial slur" and believe it is dehumanizing. Instead, they prefer if the term "undocumented immigrant" is used.
"They're using a legally inaccurate term that's deployed to unfairly label and scapegoat people who are out of status due to a variety of systemic circumstances," Xakota Espinoza from the Center for Racial Justice Innovation, told LawNewz.com
Most major news outlets have not used "illegal immigrant" for several years now.  Only conservative media organizations like Breitbart and The Daily Caller still utilize the term. President Barack Obama, in his speeches, steered clear of the words, and so do some Republicans.
"The i-word is legally inaccurate, politically loaded, dehumanizing to the people it describes and likely unintentionally fuels racial profiling and violence directed toward immigrants," Espinoza explained.
Advocates point to the 2012 Supreme Court ruling in which Justice Anthony Kennedy wrote, "As a general rule, it is not a crime for a movable alien to remain in the United States."
In conservative circles, the term "illegal immigrant" is frequently used in the immigration battle. President Donald Trump has used the term repeatedly on Twitter during his term, and on the campaign trail. 
Do you believe it? The Obama Administration agreed to take thousands of illegal immigrants from Australia. Why? I will study this dumb deal!

— Donald J. Trump (@realDonaldTrump) February 2, 2017
During the GOP convention, CNN cut away from the victims of illegal immigrant violence. They don't want them heard. https://t.co/EHRiLkQDWD

— Donald J. Trump (@realDonaldTrump) August 1, 2016
"I think this cuts to the heart of the debate over sanctuary cities and to what extent local law enforcement should cooperate with immigration authorities. Important legal nuances are reflected in words we use. A 'detainee' is not a 'prisoner,' for instance," wrote Ted Slowik in a recent opinion piece for The Chicago Tribune. 
We reached out to the Department of Justice to find out more about why the decision was made.
Have a tip we should know? [email protected]
Rachel Stockman - Editor in Chief / On Air Host