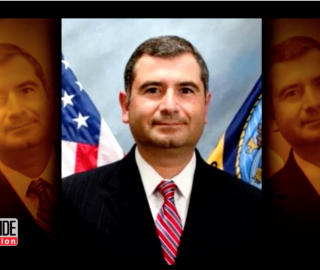 A senior Navy official was charged on Tuesday with brandishing a firearm. This story emerged after a cell phone video was released showing the official pointing a pistol at three men who were leaving a barbecue in Burke, Virginia.  The official, Karnig Ohannessian who is the deputy assistant secretary of the Navy for environment, now faces three misdemeanor counts of brandishing a firearm according to Stars and Stripes.
The penalty for brandishing a firearm in Virginia is one of the most severe misdemeanors and carries a maximum of a year in jail and a $2,500 fine. The Navy put Ohannessian on paid administrative leave after the cell phone video broke in June. He had previously won two prestigious award for civilian service from the Navy.
You can watch a reporting of the story from CBS This Morning which has the cell phone video in it below:
In the video, Ohannessian is standing on his sidewalk in front of his home yelling at three men who he claims were drunk in public. Ohannessian then pulls out his pistol and points it at the men while yelling at them to get in the car.
"You are pointing a gun at my friend. This is a criminal offense, so please stop it," one of the men warns Ohannessian.
"I can shoot the f*** out of you guys right now," he said.
The United States Navy has not yet commented on the charges.
—
video via CBS This Morning
image via Youtube screen grab
Have a tip we should know? [email protected]