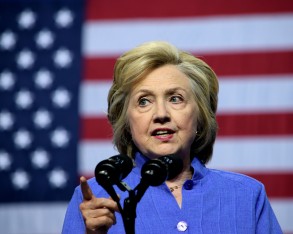 A top Senate Republican called on President Obama to appoint special prosecutor to investigate whether foreign donors to the Clinton Foundation received special access to Hillary Clinton while she served as Secretary of State.
Senator John Cornyn made the statement to The Hill during a recent interview published on Monday.  In the interview, the Texas Senator essentially said he felt Clinton pulled fast one lawmakers eight years ago during her confirmation hearing to become Secretary of State.
Back in 2009, Sen. Cornyn held up Clinton's nomination until he was satisfied that proper safeguards were in place to address concerns over conflicts of interest regarding foreign contributions to the Clinton Foundation.
"This is not an effort to scuttle or block the nomination, but a legitimate policy difference," Cornyn spokesman Kevin McLaughlin said at the time. "Senator Cornyn's goal is to create transparency on all levels of government."
Sen. Cornyn eventually released his hold on the nomination after receiving a promise from Clinton to "do everything in my power to make sure that the good work of the Foundation continues without there being any untoward affects [sic] on me and my service and be very conscious of any questions that are raised."
In addition to making that promise, Clinton also referenced a 2008 Memorandum of Understanding (MOU) signed by the then-Clinton Foundation CEO Bruce Lindsey and Valerie Jarrett, the woman in charge of Obama's transition team.
The MOU outlined an "agreed to a set of protocols that would apply to the Foundation's activities to supplement any existing State Department protocols for managing conflicts of interests, and the appearance of conflicts of interest…."  Among other promises, pursuant to the MOU, the Foundation pledged to "publish annually the names of new contributors…" and former President Bill Clinton agreed to no longer "solicit funds" on its behalf.
"When I put a hold on Mrs. Clinton's nomination as Secretary of State, she reassured me that they would take appropriate steps," Sen. Cornyn told The Hill. "As seems to be usual for the Clintons, they crossed the line and all the concerns that she reassured me would not occur did in fact occur."
He added, "She was playing both sides. As she was performing her job of secretary of State, the Clinton Foundation was shaking down donors who were buying access. It's absolutely deplorable."
According to the article, Sen. Cornyn cited various reports in recent weeks that show the Clinton State Department and the Clinton Foundation did not exactly comply with prior ethics pledges.  A majority of the reports have been sparked by emails and other documents uncovered by the legal watchdog Judicial Watch.
Reflecting on those reports, Sen. Cornyn said, "The reassurances she gave me back at the time her confirmation was considered, she, for all practical purposes, violated. "Those representations she made to me about the integrity of the screening process and of the ethics concerns with regard to the foundation."
He then called on President Obama to appoint a special prosecutor to get to the bottom on everything.
"Once again the rules don't apply to them like they apply to everybody else," Sen. Cornyn said. "Can you imagine if anybody else in the United States government had tried to get away with something like this? It wouldn't have happened."
[image via shutterstock]
Have a tip we should know? [email protected]