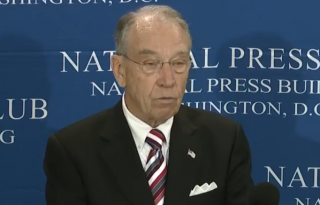 Iowa Senator Chuck Grassley, head of the Senate Judiciary Committee, spoke with Supreme Court nominee Merrick Garland on Monday, inviting him to a breakfast meeting where the two can discuss the vacant Supreme Court position.
The meeting will not end in a job offer, or even the consideration of one, as a spokesperson for Grassley said the Senator will talk to Garland about "why the Senate will not consider a nominee until the next president takes office." The Judiciary Committee is responsible for holding hearings that must take place before any nominee is up for confirmation by the Senate. The next President is set to take office on January 20, 2017, nearly a year after the Supreme Court seat became available with the passing of Justice Antonin Scalia on February 13.
This will not be Garland's first meeting with a Republican Senator, as he already spoke with Mark Kirk of Illinois. The New York Times reports he is scheduled to meet with Susan Collins of Maine and John Boozman of Arkansas on Tuesday. The date for Garland and Grassley's breakfast has not been set at this time.
[h/t Reuters, screengrab via C-SPAN]
Have a tip we should know? [email protected]