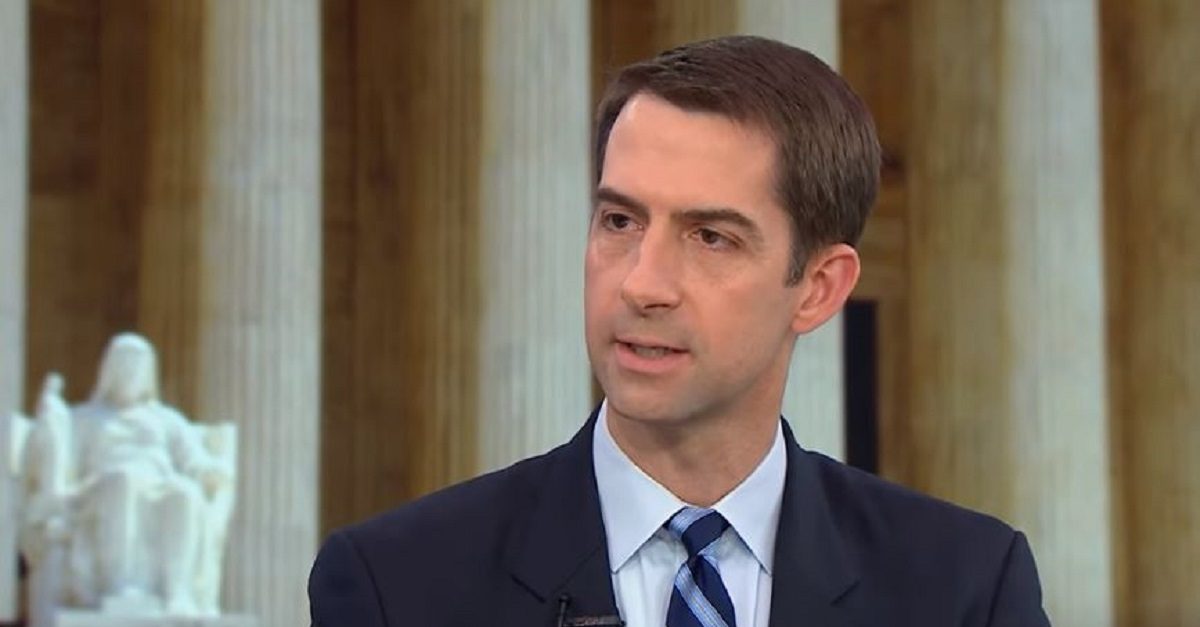 Only a handful of people were aware of the letter sent to Rep. Anna Eshoo (D-California) containing Christine Blasey Ford's allegations against Brett Kavanaugh before the media somehow learned of it. Eshoo turned it over to Sen. Dianne Feinstein, who referred the matter to the FBI and showed it to Democrats on the Senate Judiciary Committee.
That's a small group of people, but one of them tipped off the press. Sen. Tom Cotton (R-Arkansas) went on Hugh Hewitt's radio show Tuesday, and he placed the blame on Senate Minority Leader Chuck Schumer (D-New York) and those associated with him.
Hewitt asked Cotton if he thought the allegations against Kavanaugh were part of an orchestrated plan.
"Hugh, I believe the Schumer political operation was behind this from the very beginning," Cotton said. "We learned last week that a woman named Monica McLean was Ms. Ford's roommate, and she was one of the so-called beach friends who encouraged Ms. Ford to go to Dianne Feinstein and the partisan Democrats on the Judiciary Committee. Well, it just turns out, it just so happens that Monica McLean worked for a Preet Bharara, the former U.S. Attorney in Manhattan, now a virulent anti-Trump critic on television and former counsel to Chuck Schumer."
Listen to the audio here:
Based on this, Cotton said that he thinks Schumer and his "political operation" were aware of Ford's allegations against Kavanaugh since July, but used her as a pawn in a political scheme. That plan included stirring up "left wing mobs" who protested against Kavanaugh's confirmation to the Supreme Court.
[Image via CBS screengrab]
Have a tip we should know? [email protected]