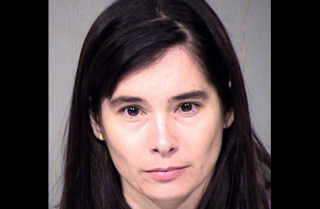 A fundraiser for Senator John McCain was arrested Tuesday on drug charges after police discovered a meth lab and other drugs in her garage, AZ Central reported. The home of Emily Pitha, 34, who formerly served on the staff of retired Senator John Kyl, was the target of a search warrant that was executed by the Maricopa County Sheriff's Office.
The location was first brought to the attention of law enforcement when a package containing 250 grams of MDMA was delievered there from the Netherlands. Pitha's boyfriend, Christopher Hustrulid, 36, who was also arrested, signed for the package.
Detective Doug Matteson from the MCSO told Phoenix's Fox 10 that the house not only contained active meth lab with quantities of methamphetamine, but also heroin, cocaine, and LSD. Detectives also found counterfeit bills, as well as thousands of dollars in loose bills. Another building at the location had a secret room for growing marijuana.

There was also a 5-year-old and a 10-year-old living in the house, so Pitha and Hustrulid may be charged with child endangerment. According to Matteson, the children had access to the drugs, as well as volatile chemicals used for making meth that had to be removed by a bomb squad. Fox10 reported that the kids were at school during the raid. They are currently with family members.
Pitha had been a contact person for McCain's reelection fundraisers, but not anymore, thanks to her alleged extracurricular activities. McCain's campaign manager said in a statement:
"We commend the hard work and dedication of our law enforcement officers in their fight to keep our community safe from illegal drugs and associated criminal activity. The campaign immediately terminated any relationship with Ms. Pitha upon learning of her alleged involvement in the operation."
Have a tip we should know? [email protected]