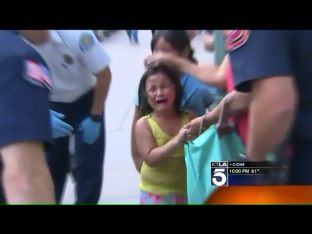 KTLA reports there was a "violent confrontation" on Tuesday outside of an Anaheim City Council meeting between Donald Trump supporters and anti-Trump protesters.  What started out as the two groups shouting at each other across the street soon escalated.  The Orange County Register published photos of the incident that appear to show an anti-Trump protester using pepper-spray on a group of Trump supporters.  The newspaper reports two of the people sprayed were young children, ages 8 and 11.
According to KTLA, the two groups were demonstrating outside Anaheim City Hall ahead of a meeting where the city council was expected to vote on a measure to condemn Trump's "divisive rhetoric."
Raul Rodriquez Jr., 74, said that he was among the group of Trump supporters that was pepper sprayed.
"The kid that sprayed me walked into my bullhorn and he claims that I hit him with it, and he sprayed me in the face," Rodriguez  told KTLA. "We were here for a peaceful rally and he attacked me. He sprayed me with that spray. That's pitiful."
The report described Rodriquez as wearing a Trump baseball hat and Trump t-shirt and said he "had visibly red skin on his face."
Rodriquez was not the only Trump supporter to be hit with pepper-spray, the Orange County Register writes:
At least two of those sprayed were female Trump supporters and two were children, ages 8 and 11.

A woman wearing a red "Make America Great Again" cap was hit on the left side of her face with the spray. Both of her grandchildren were also hit.

Paramedics were seen pouring water into the victims' eyes to try to remove the stinging spray. The 8-year-old cried hysterically.
Rodriquez said his attacker was the same individual who allegedly sprayed the two girls.  He described his assailant as "Hispanic, 25 to 30 years old and heavy-set."
An individual matching that description is seen holding what appears to be pepper spray in images number 2 and 3 in the photo slideshow published by the Orange County Register.
Anaheim Police Department Sgt. Daron Wyatt told reporters that at least five people were hit with pepper spray at the rally.  Wyatt said police are still trying to identify the alleged suspect.
As for that city council resolution?  Late Tuesday evening, the council voted 3-2 to take no action on the proposed measure.
[image via screengrab]
Have a tip we should know? [email protected]