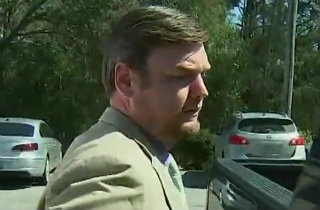 OCILLA, Ga. (AP) — A second suspect has been indicted in connection with the death of a Georgia teacher and former beauty queen who vanished nearly 12 years ago.
Media outlets report a Ben Hill County grand jury on Monday indicted 32-year-old Bo Dukes on charges of concealing a death, tampering with evidence and hindering the apprehension of a criminal in 30-year-old Tara Grinstead's death.
Investigators believe Dukes helped a former classmate, 33-year-old Ryan Alexander Duke, remove Grinstead's body from her Ocilla home. Dukes is also accused of burning Grinstead's body.
Grinstead was reported missing in October 2005 when she didn't show up for work at the school where she taught. No arrests were made in the case until February, when a tipster contacted authorities with information that led to the men's arrests.
[Screengrab via WSB-TV]
Have a tip we should know? [email protected]