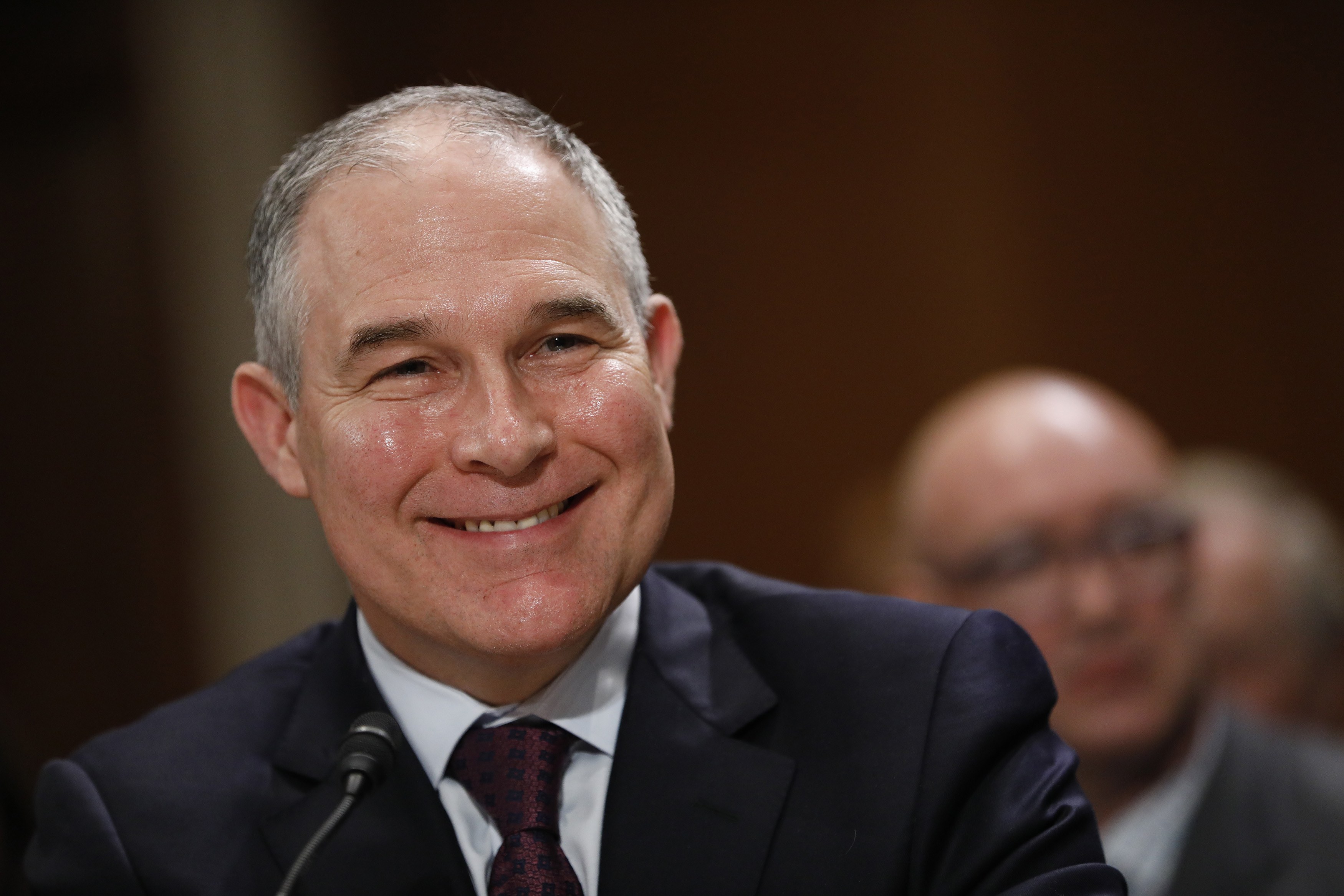 Environmental Protection Agency ("EPA") head Scott Pruitt doesn't have a problem with money. You do.
First class travel. Luxury hotels in New Orleans. A massively-swelled security detail and his own personal budget for counter-intelligence. The EPA chief's spending habits are starting to sustain a fever pitch of interest.
According to a late Friday report by the Associated Press, Pruitt has racked up millions of dollars worth of high-class travel and security expenses during his short time leading the conservation themed agency.
Pruitt assumed leadership of the EPA after being confirmed and sworn in as the 14th official administrator on February 17, 2017.
The American Legislative Exchange Council ("ALEC") hailed Pruitt's imminent arrival in D.C. by proclaiming, on their website, "In selecting Oklahoma Attorney General Scott Pruitt to serve as Administrator of EPA, President-elect Trump has found just the right person to bring fresh leadership and much-needed reform to an agency currently out of control. President-elect Trump has vowed to bring 'honesty, accountability and change to Washington.' General Pruitt's record of accomplishment suggests that he will bring those very same qualities to EPA."
Pruitt quickly moved to change things. First, there was the size of his security staff. Pruitt spent millions to more than triple his personal entourage–and created full-time government jobs in the process. The previous Obama era EPA administrator somehow managed to get by with only part-time security.
This staff expansion came by way of a demotion and a promotion. Axed was the career staff member who had previously been in charge of the smaller, part-time security detail. Elevated was EPA Senior Special Agent Pasquale "Nino" Perrotta, who, according to the AP, is "a former Secret Service agent who operates a private security company." Perrotta made sure Pruitt's security staff rapidly expanded. According to an EPA official, Pruitt's staff began guarding him night and day, on family vacations to California and when Pruitt went back to Oklahoma. But Perrotta wasn't just there to fluff up the size of Pruitt's security detail.
Also on the change agenda was how the EPA director would handle travel arrangements.
According to the AP, the new informal travel guidelines would be a two-tiered system: (1) Pruitt would fly coach when he personally paid for his travel; and (2) Pruitt would fly first-class when the public paid for his travel–with Perrotta typically in the seat next to Pruitt and his support staff farther back. The first-class travel arrangement also gave Pruitt and Perrotta "access to VIP airport lounges," according to Friday's report.
How much does a 24-hour security detail for one of the nation's top bureaucrats cost? According to the AP, many members of Pruitt's security detail have racked up so much overtime–in the first three months of the year alone–that they've already reached annual salary caps in excess of $160,000. That report also notes that during Pruitt's one year-and-one-half-month tenure as EPA administrator, his detail has accumulated nearly $3 million in total security costs.
The EPA says it's worth it. Spokesman Jahan Wilcox said, "Americans should all agree that members of the President's cabinet should be kept safe." Wilcox has, unsurprisingly, long been one of Pruitt's most vocal defenders. He's spent the past few weeks explaining away Pruitt's use of premium airfare and high-priced hotels and responding to congressional inquiries. Wilcox also justified the purchase of a sound-proof phone booth which cost around $43,000, according to the Washington Post. Wilcox's Twitter feed currently features numerous retweets of various statements supportive of Pruitt and his unprecedented spending habits.
Wilcox increasingly has his work cut out for him. During Pruitt's first three months in office, his security detail ate up $832,000 worth of public funds, according to records obtained by the AP. Then Pruitt took a trip to Morocco and Italy–full security detail in tow. The AP noted that Pruitt's Italian trip alone cost the public $120,000.
Scott Pruitt does occasionally pay for his own travel. But when he does, he flies coach, according to Politico's Emily Holden and the AP's Michael Biesecker.
According to the San Francisco Gate and Business Insider, in recent weeks, Pruitt requested a $100,000-per-month private jet membership, a bulletproof car and about $70,000 worth of bulletproof furniture–those requests were denied. But the five EPA officials who pushed back against those lavish asks from Pruitt and his staff were then "placed on leave, reassigned or demoted," according to the AP.
Following Pruitt's confirmation, GOP Senator John Barrasso hailed his friend's ascension to the halls of regulatory power. He said, "Mr. Pruitt answered significantly more questions than any past EPA administrator has. He has been comprehensively vetted and has demonstrated his qualifications to lead the EPA."
Now, it appears those questions were just the beginning.
[image via Getty images]
Follow Colin Kalmbacher on Twitter: @colinkalmbacher
Have a tip we should know? [email protected]