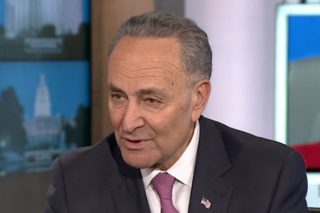 The confirmation hearing for Senator Jeff Sessions, nominated by Donald Trump for Attorney General, ended Wednesday afternoon after two days of testimony before the Senate Judiciary Committee. While confirmation wouldn't take place until after Trump's inauguration on January 20, one prominent Senator is already saying he won't support Sessions.
Senate Minority Leader Chuck Schumer of New York, said Thursday morning that he will not vote to confirm Sessions, a 20-year Senate veteran from Alabama, CNN reported. In a statement, Schumer said:
After reviewing his record and giving careful consideration to his answers during the hearing, I am not confident in Senator Sessions' ability to be a defender of the rights of all Americans, or to serve as an independent check on the incoming administration.
Additionally, Schumer expressed concern over Sessions' stance on immigration. "For those reasons, I will oppose his nomination to serve as the next attorney general," he said.
Schumer is not the only Senator who has gone on the record opposing Sessions. New Jersey Senator Cory Booker testified against Sessions at the hearing on Wednesday, breaking a tradition of sitting Senators not testifying against colleagues.
[Screengrab via MSNBC]
Have a tip we should know? [email protected]