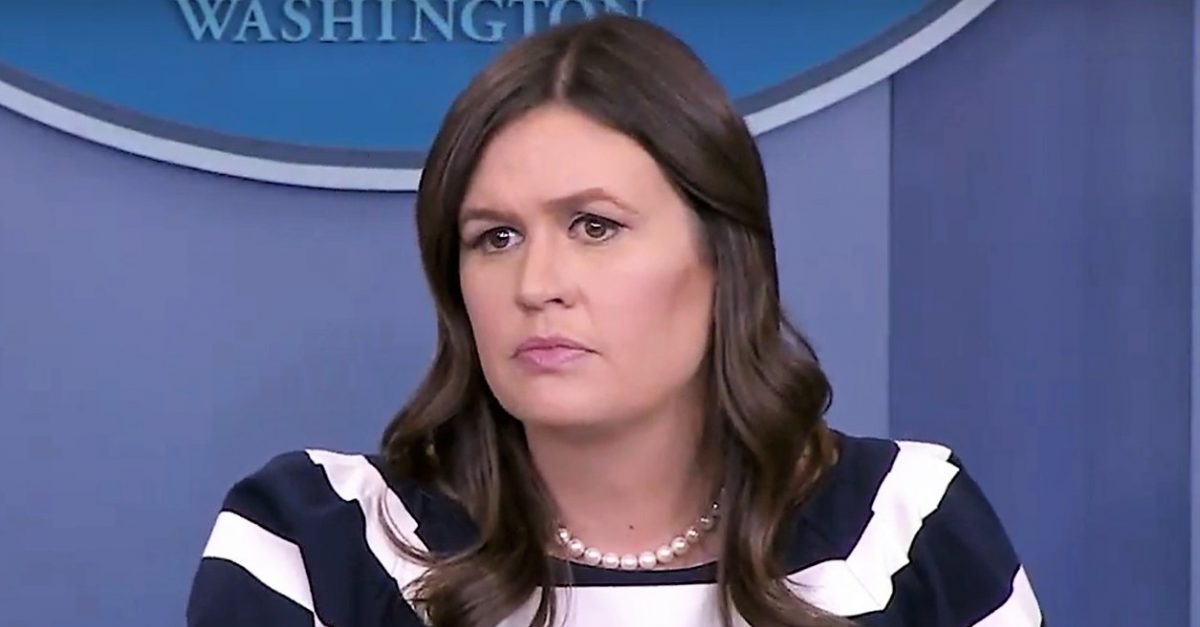 A good number of White House officials have been accused of possibly violating the Hatch Act, a law that prohibits executive branch employees from engaging in political activity. One of them was none other than Press Secretary Sarah Huckabee Sanders, who faced a complaint from Citizens for Responsibility and Ethics in Washington (CREW) over a tweet she posted back in March.
"Great again: 'The U.S. likely to overtake Russia to become the world's largest oil producer,'" Sanders tweeted from her official account, linking to a Wall Street Journal article on the subject. CREW alleged that by using the phrase "great again," Sanders invoked President Donald Trump's "Make America Great Again" campaign slogan, in violation of the Hatch Act.
The Office of Special Counsel (OSC), which handles Hatch Act matters, was not convinced.
In a letter to CREW, they announced that they "cannot conclude that using the words "great again" in an otherwise official message, without more, constitutes political activity under the Hatch Act." As a result, OSC said they are closing the file on this matter without taking any additional action.
Not as lucky was White House Principal Deputy Press Secretary Raj Shah. CREW filed a complaint against Shah for a June 4, 2018 tweet from his official account where he linked to the Republican National Committee's website with the accompanying message, "Fantastic @RNCResearch release #Winning: 500 Days of American Greatness."
OSC found that this violated the Hatch Act because Shah's message from his official account "highlighted research done by a political party and provided a link to the party's website and its research."
Shah wasn't the only employee found to have violated the Hatch Act. Other offenders include Executive Assistant to the President Madeleine Westerhout, Press Secretary for the Vice President Alyssa Farah,  Deputy Communications Director for the Office of Management and Budget Jacob Wood, White House Deputy Director of Communications Jessica Ditto, and now-former Special Assistant to the President and Director of Media Affairs Helen Aguirre Ferré. Westerhout, Farah, and Wood violated the act by tweeting #MAGA, Ferré tweeted an image with the "Make America Great Again" slogan, and Ditto retweeted Shah's tweet.
Deputy Press Secretaries Lindsay Walters and Hogan Gidley were cleared of Hatch Act violations. Walters had retweeted Sanders' tweet. Gidley tweeted #MAGA, but was found not to be in violation because the tweet was posted before OSC advised that they considered this to be prohibited political activity. Also cleared was OMB Director Mick Mulvaney, who had tweeted #MAGAnomics. OSC had previously decided that this particular hashtag "was not for the purpose of affecting the result of an election but rather to further the Administration's economic agenda."
As far as penalties for Hatch Act violations, those are handled by the Merit System Protection Board, which can determine after a hearing whether the violation warrants removal from office. Hatch Act violations do not always result in punishment. For example, when then-Housing and Urban Development Secretary Julian Castro violated the Act, the Obama administration decided not to penalized him for it.
[Image via White House screengrab]
Have a tip we should know? [email protected]