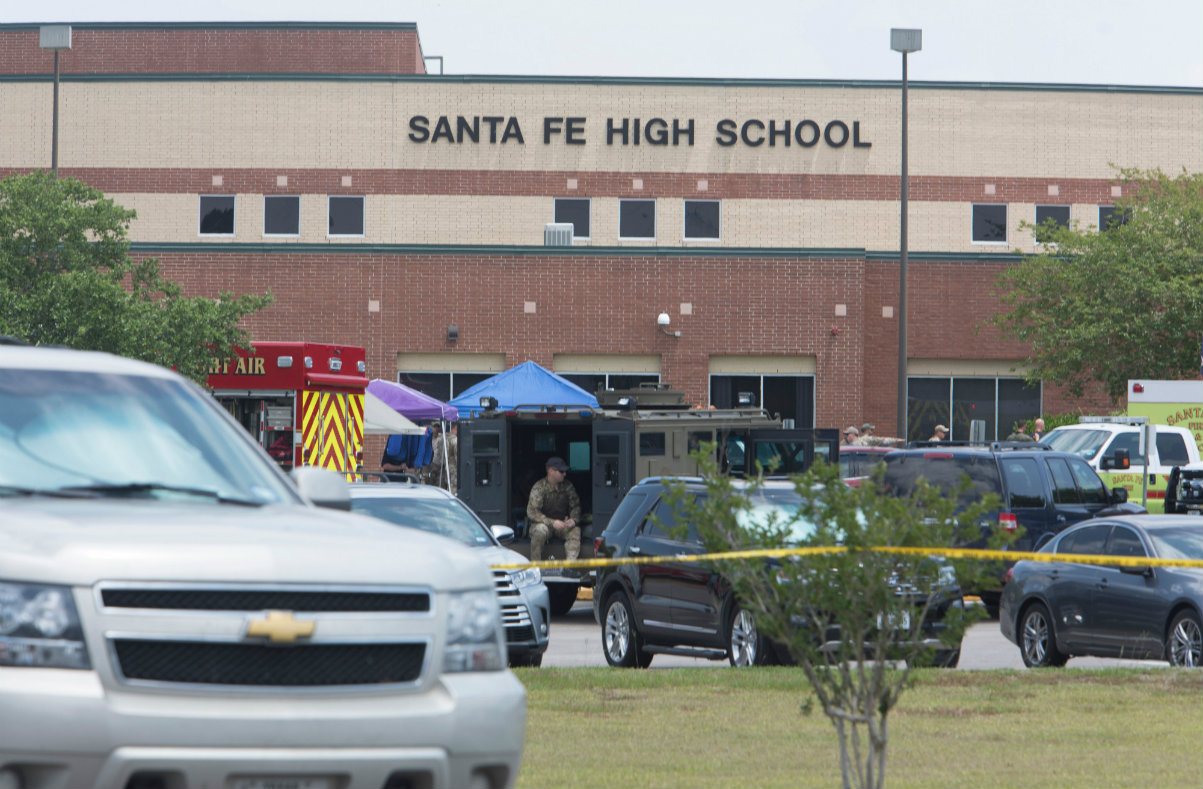 Shana Fisher, one of the students killed in the mass shooting in Santa Fe, Texas, had previously rejected the advances of alleged shooter Dimitrios Pagourtzis, said Fisher's mother Sadie Rodriguez.
"He kept making advances on her and she repeatedly told him no," Rodriguez told The Los Angeles Times in a private Facebook message. She said her daughter had "4 months of problems from this boy." Pagourtzis got more aggressive, and Fisher stood him up to him and embarrassed him in class, Rodriguez said. "A week later he opens fire on everyone he didn't like, Shana being the first one." It wasn't clear from Rodriguez's message how she knew Fisher was shot first.
A Facebook statement attributed to another student's mother said the gunman taunted students who had been hiding in a closet during the shooting.
The probable cause statement said that Pagourtzis surrendered to police, admitted to being the gunman, and said "he did not shoot students he did like so he could have his story told," according to the Times. He was being held on charges of capital murder and aggravated assault on a public servant (school police officer John Barnes was shot twice in both arms, and may lose his right, said Houston Police Department Capt. James Dale, according to the outlet).
Nine other people were killed on Friday. Fisher, and seven other students: Jared Black, Christian Riley Garcia, Aaron Kyle McLeod, Angelique Ramirez, Sabika Sheikh, Christopher Jake Stone, and Kimberly Vaughan. 13 people, including Barnes, were injured.
Pagourtzis' family said in a statement obtained by Law&Crime that they were "shocked and confused as anyone else by these events that occurred. We are gratified by the public comments made by other Santa Fe High School students that show Dimitri as we know him: a smart, quiet, sweet boy. While we remain mostly in the dark about the specifics of yesterday's tragedy, what we have learned from media reports seems incompatible with the boy we love."
They said they will wait for the outcome of the investigation before talking about what happened. They said they will cooperate with authorities, and asked "the public to please extend privacy, both to the victims and to our own family, as all of us try to process these events, and begin the healing process."
Pagourtzis is being represented by both attorneys Nicholas Poehl and Robert Barfield.
"Right now, we're in the information gathering stage," Poehl told Law&Crime in a phone interview. He wouldn't comment on the specifics of the allegations against his client, saying that much of what they know right now is through media reports. Calling the probable cause statement "thin," he said police aren't giving definitive details about what allegedly happened.
Discovery will be a drawn-out process because of the ongoing investigation, he said.
[Image via DANIEL KRAMER/AFP/Getty Images]
Have a tip we should know? [email protected]