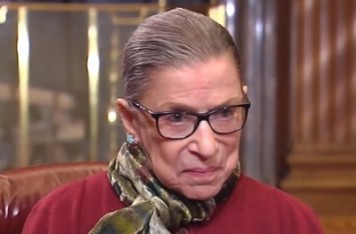 U.S. Supreme Court Justice Ruth Bader Ginsburg spoke to group of high school students in Hawaii over the weekend and reportedly said it was "disheartening" to see a rise of anti-immigrant sentiment across the country recently.
According to the Honolulu Civil Beat, students were directed not to ask questions about cases that might come before the Court, including the 9th Circuit's recent decision to block President Donald Trump's "extreme vetting" executive order.   Nonetheless, a student still reportedly asked Ginsburg if she believed immigrants benefit the country.
"I think of the U.S. as a place that welcomes people from abroad who want to work and who are yearning to be free," Ginsburg replied. "It's disheartening to see that there are some people who don't agree with that view who think our borders should be closed. But it's not the first time in U.S. history that has happened."
She then added that she was optimistic that the country would again be viewed "as a land of freedom and democracy that embraces people who come to us as strangers and then become part of us."
This is not the first time in the past year that the 83-year-old Ginsburg has made remarks that appear critical of President Trump.  During the campaign, Ginsburg remarked that she could not "imaginee what the country would be like" under a Trump administration.  Days later, she apologized and called the remarks "ill-advised."
During the same lecture on Saturday, Ginsburg also reiterated similar remarks she made earlier in the week that she would like to see an end to the Electoral College, but she recognized it would be difficult and would require a constitutional amendment.
In the event the a case involving the Trump administration does reach the nation's High Court, some will likely point to Ginsburg's past remarks about Trump as evidence that she cannot be impartial and must recuse herself from hearing cases involving the administration.
[image via screengrab]
Have a tip we should know? [email protected]