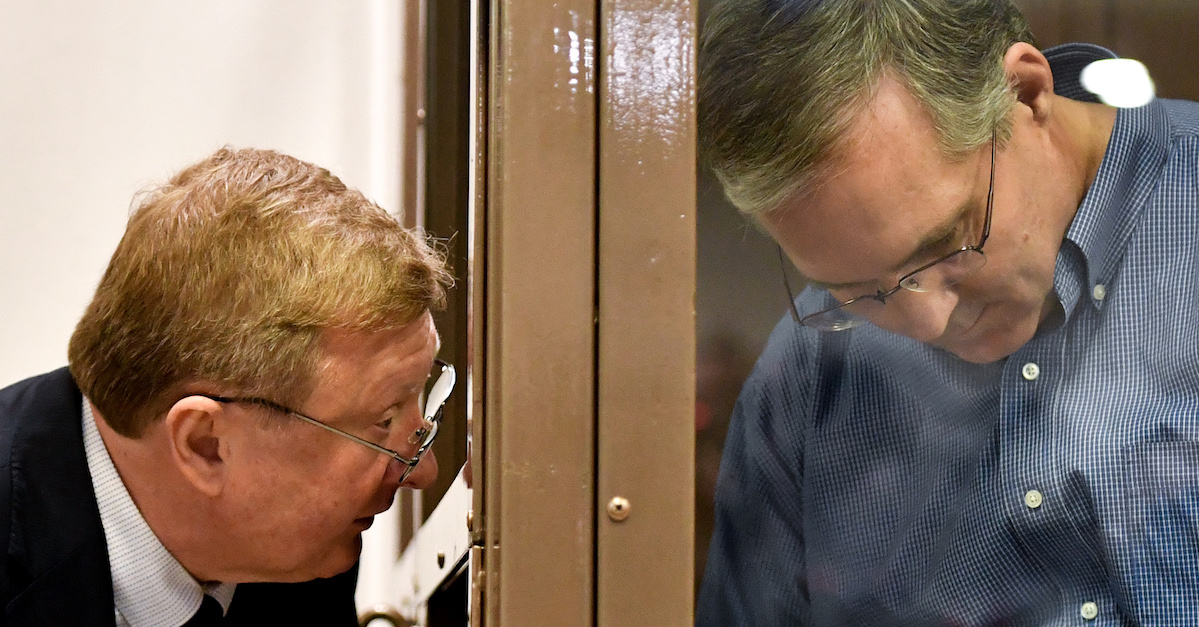 The plight of retired U.S. Marine Paul Whelan continues, as his own defense attorney, one appointed by Russia, has gone public to say that Whelan was found to have "state secrets" in his possession.
Attorney Vladimir Zherebenkov, who decided to take a beach vacation not long after his high-profile client was arrested on a serious charge, claims that the 48-year-old Whelan had "evidence that constitutes state secrets."
Zherebenkov said that Whelan had a flash drive with classified information on it, according to CNN. Zherebenkov also said that Whelan is not admitting that he is guilty. Whelan was arrested on Dec. 28, eight days after Russian President Vladmir Putin commented on the U.S. arrest of Russian national Maria Butina. Butina pleaded guilty to conspiracy to act as a foreign agent.
Concerns were immediately raised that Whelan was taken "hostage" by Putin to retaliate against the U.S. in an eye for an eye move. Putin denied it.
Meanwhile, Whelan's Russian defense attorney is not only going public with information that Whelan had "state secrets" when he was arrested, he's also refusing to say Whelan's arrest was politically motivated. He said that was "absolutely not" the case. Nor was this a "setup," Zherebenkov said.
"I am not using the word 'set-up,'" he said.
An interesting criminal defense strategy, to say the least. One thing Zherebenkov did say in Whelan's favor was that he was "unaware" of the purported contents on the flash drive.
Whelan has been held without bail at the Lefortovo prison in Moscow. He's been charged for engaging in an act of espionage, which is punishable by 10 to 20 years in prison.
The Washington Post previously reported that Whelan was discharged from the Marines in 2008 for bad conduct related to "several" larceny charges. Whelan, who lives in Michigan and works in corporate security for automotive components supplier BorgWarner, is also said to have a "basic command" of the Russian language. His family said he was in Moscow to attend a wedding. Meanwhile, former CIA official John Sipher has said that nothing in Whelan's background indicated that he is likely a spy.
"The way we run spy cases in Moscow is very, very carefully, very meticulous," he said. "We don't send in random Americans without diplomatic immunity to collect low-level stuff."
At the same time, Whelan's reported behavior makes it easier to see why Russia was watching him. Whelan, ex-military, had an account and was somewhat active on the Russian social media site Vkontakte, openly expressed his interest in Russia and reached out to Russian citizens connected to military agencies on social media.
Putin previously alluded to the Butina arrest and denied that Russia would engage in "eye for an eye" activity.
"As for the fate of Russian nationals, we do care about them, including the fact that Butina is being forced to admit something over there. I cannot understand what she could possibly have admitted, since she was not following any instructions from the Russian Government or its agencies," he was quoted. "This is a very sensitive area, and we will not act according to the laws of the Code of Hammurabi here. The law of retaliation states, 'An eye for an eye or a tooth for a tooth.' We need to act very cautiously here, and we need to be real."
Putin critics, Bill Browder chief among them, have not been shy about sharing the opinion that this is a clear "hostage situation."
"In my opinion, based on what I know, this is a hostage situation. Paul Whelan I believe was taken as a leverage for Vladimir Putinin response to the Maria Butina prosecution in Washington," Browder previously told CNN. "And Vladimir Putin very much doesn't want her to talk to U.S. authorities. And he was in a very weak position and he needed to change that negotiating position, and so he looked for a hostage."
"And I believe that the Paul Whelan arrest fits right into that pattern of behavior," he added. "Putin is in a very bad position. There is a woman who has pleaded guilty to trying to disrupt the U.S. political process. That woman is connected to a man named [Aleksandr] Torshin. Torshin was a Russian government official who worked for Vladimir Putin. And so this the most direct evidence yet of that Vladimir Putin was trying to influence the outcome of the U.S. election and Putin doesn't want that to go to fruition."
"And so needs to try to create some type of counterpoint. And the best counterpoint is to take a former Marine who was visiting Russia for a wedding, grab him, accuse him of espionage and then create a negotiating position out of that," Browder said.
Whelan's family members have also denied that he is a spy.
[Image via Mladen Antonov /AFP/Getty Images]
Have a tip we should know? [email protected]