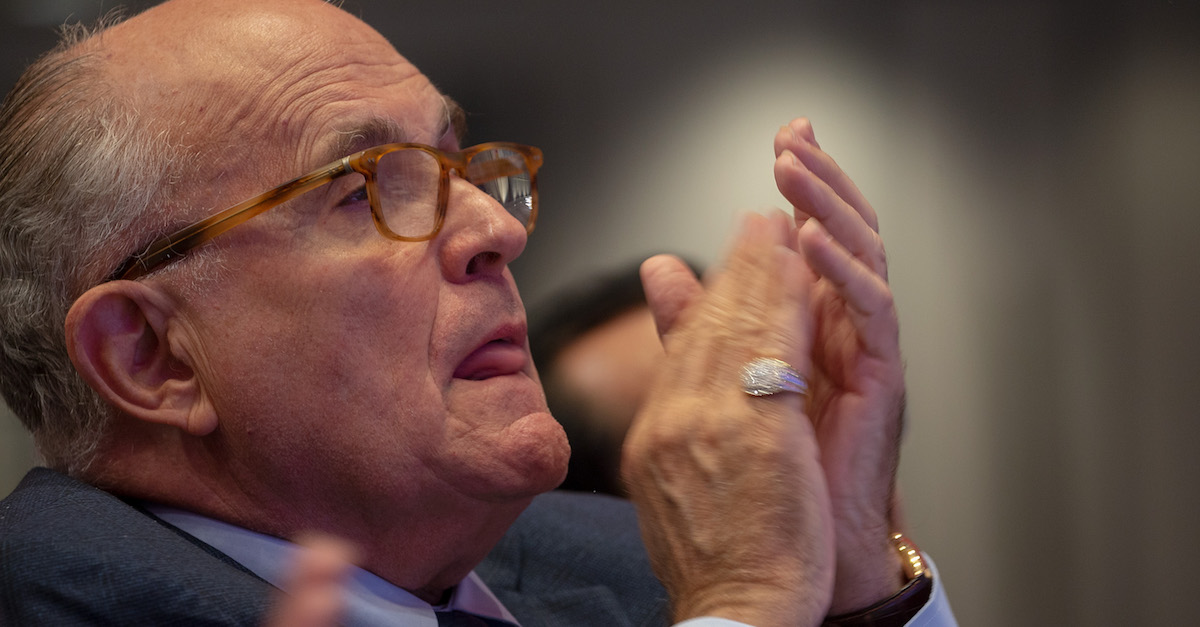 After a pair of new reports touched on the issue of presidential pardons for associates of President Donald Trump who have been ensnared by Special Counsel Robert Mueller's investigation, Trump lawyer Rudy Giuliani is weighing in again.
The Wall Street Journal had reported that back when the FBI had just raided Michael Cohen's home, office, and hotel room, he had his attorney reach out to Trump's team about the possibility of a pardon. This came after Cohen told the House Oversight Committee that he had never asked for a pardon, and wouldn't take one.
Trump's attorney Rudy Giuliani took notice, tweeting:
Dems star Cohen testified:"I have NEVER asked for…a pardon from Mr. Trump."His lawyer Lanny Davis has said "…he(Cohen) directed his attorney to explore … a pardon."Never means never ever not after July 2,2018 which is the latest deception. Another perjury and more prison.
As this screenshot shows, the tweet drew plenty of likes, including one from Donald Trump Jr.

Cohen's attorney Lanny Davis said that any talks that Cohen's former lawyer had about a pardon came before Cohen decided to cooperate with authorities and tell the truth about Trump.
"After July 2, 2018, Mr. Cohen authorized me as a new lawyer to say publicly Mr. Cohen would never accept a pardon from President Trump even if offered," Davis told WSJ. The lawyer insisted that when Cohen told the House Oversight Committee that he "never asked for" and wouldn't accept a pardon, that was not a false statement.
"His statement at the Oversight Hearing was true—and consistent with his post-joint defense agreement commitment to tell the truth."
Now, whether Cohen looked for a pardon or not, a New York Times report revealed that he-or anyone else who may have asked—may not have received the answer they were looking for.
Giuliani said, according to the Times, that a number of lawyers for people facing charges from the Mueller investigation had reached out to him about a pardon, and he told them all the same thing: don't count on it.
"I always gave one answer, and they always left disappointed," Giuliani said. That answer was that the president will not think about pardoning anyone until well after Mueller wraps up his investigation.
This was echoed by a statement published by WSJ.
"I always give the same answer which is, 'The president is not going to consider any pardons at this time, and nobody should think that he is,'" Giuliani said. "Whatever happens in the future, that is his prerogative."
If true, this would be a wise approach to pardons. Any evidence that Trump or his lawyers were actively arranging pardons for those who were under investigation and at risk of flipping on Trump could bolster a case of obstruction of justice. After Trump's former campaign chairman Paul Manafort had agreed to cooperate with the Special Counsel's Office, Manafort was accused of lying about certain details, including communication with administration officials. This raised concerns that Manafort was counting on a pardon in exchange for covering for the president.
These latest reports come just hours before Manafort is scheduled to be sentenced. Manafort faces up to 25 years in prison after being found guilty by a jury of 8 counts in a bank and tax fraud case, then pleading guilty in a related money laundering case.
As for Cohen, he is set to serve a three year prison term for a variety of crimes, including lying to Congress about details pertaining to negotiations for a possible Trump Tower in Moscow.
[Image via Tasos Katopodis/Getty Images]
Have a tip we should know? [email protected]