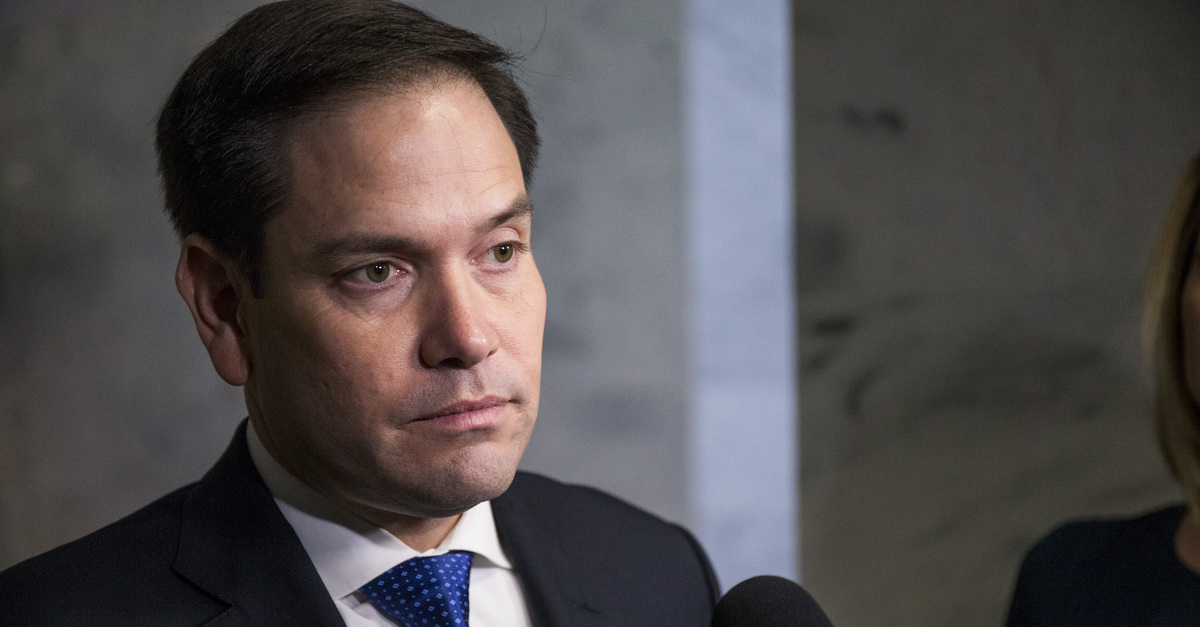 Senator Marco Rubio (R-FL) has recently been waging a one-man jeremiad against government and military officials in Venezuela.
The Florida Republican's Twitter feed is filled to the brim with English and Spanish language denunciations of the ongoing problems in the Bolivarian Republic of Venezuela–occasionally mocking and increasingly strident. There's also the occasional bible verse–typically from the Book of Psalms.
Amidst an occasionally ongoing tally of what he terms "defectors" from the "regime" of Venezuelan President Nicolas Maduro, however, one of Rubio's recent anti-Maduro posts elicited quite a bit of ire and outrage.
The post in question contained two images of the same person: former Libyan dictator Muammar Gaddafi.
Sent on February 24, Rubio's tweet contained one image of Gaddafi smiling at some sort of formal event; the second image was taken just before Gaddafi was anally raped to death by a mob of radical Islamic terrorists who eventually plunged Libya into a state of chaos–rampant with extrajudicial torture, executions and the revitalization of the long-dormant African slave trade.
For those unclear about the history here: one of the men near Gaddafi in the picture, would, just moments later, crouch behind the deposed leader and sodomize him to death with a bayonet.
Many viewed Rubio's use of the macabre before-and-after imagery as a barely-veiled threat suggesting that Venezuela's Maduro might soon be subject to extra-judicial rape, torture and death. Critics have long criticized the company's policy of not applying the prohibition against threats of violence to state actors, but the apparent threat here seemed to fall outside that exception because Rubio himself is not a branch of and does not command the U.S. armed forces.
Reporter Ken Klippenstein offered a brief recitation of the general complaint:
i like how twitter doesn't even pretend ToS applies to the powerfulhttps://t.co/1H3Cfxzer1

— Ken Klippenstein (@kenklippenstein) February 24, 2019
Here's what Twitter's Rules–often referred to as Terms of Service (ToS)–have to say about violence and violent threats: "You may not make specific threats of violence or wish for the serious physical harm, death, or disease of an individual or group of people."
The ToS page goes on to explain how this standard should be interpreted.
"Tweets that violate this policy contain violent threats or glorify violence," the page helpfully notes.
Violent threats, Twitter ToS says, encompass, "explicit statements of one's intent to kill or inflict serious physical harm against another person. This includes, but is not limited to, threatening to murder someone, sexually assault someone, break someone's bones, and/or commit any other violent act that may result in someone's death or serious injury."
Glorification of violence is an even broader category of unacceptable tweeting:
[Twitter] consider[s] glorification of violence to be behavior that condones or celebrates violence (and/or its perpetrators) in a manner that may promote imitation of the act. We also prohibit the glorification of violence where protected categories have been the primary target or victim.

Some examples of this include, but are not limited to, the glorification of:

• mass murders
• terrorist attacks
• rapes and sexual assault
Rubio's tweet seemed an easy enough violation to many Twitter users.
Twitter itself wasn't convinced.
In a phone call with Law&Crime, a Twitter spokesperson said that because the tweet was behind a content advisory and because of the company's "newsworthy clause," Rubio's tweet wasn't subject to the company's typical scrutiny.
Twitter's newsworthy/public interest clause is controversial in and of itself. Twitter CEO Jack Dorsey described the clause like this:
We hold all accounts to the same terms of service. The most controversial aspect of our TOS is the newsworthy/public interest clause, the "protection" you mention. That doesn't extend to all public figures by default, but does speak to global leaders and seeing how they think.

— jack (@jack) February 12, 2019
In the thread containing the above tweet, users asked what President Donald Trump could say that would get him banned from Twitter and if there was one historical figure that would be banned for violating Twitter's ToS. Dorsey declined to answer both questions.
In a follow-up email, a Twitter spokesperson suggested that users offended by Rubio's tweet adjust their media settings.
Several direct questions–about whether Twitter would suspend less famous users for the same or similar tweets–went ignored.
The spokesperson instead issued the following statement:
The Twitter Rules apply to everyone using our service, including Verified accounts, and we take action on any accounts that violate our policies. We recognize how important it is to enforce these rules fairly and carefully, and take time to ensure we get it right before taking action.
Law&Crime also reached out to Rubio's office for comment and clarification on the senator's tweet, but no response was forthcoming at the time of publication.
[image via Zach Gibson/Getty Images]
Have a tip we should know? [email protected]