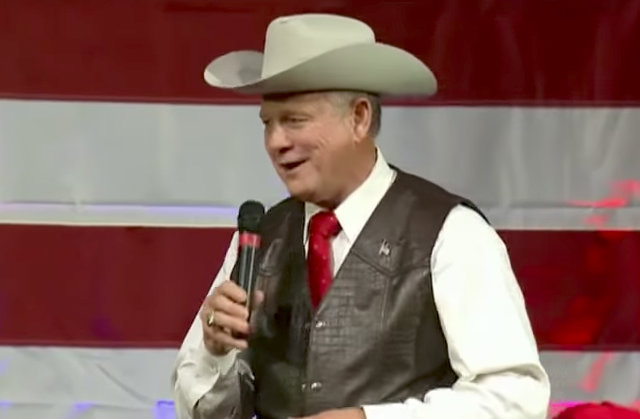 Republican Alabama Senate candidate Roy Moore threatened to sue The Washington Post Sunday night at an event in Huntsville. Last week, the Post ran a story about Moore that contained an allegation that he had sexual contact with a 14-year-old girl approximately 40 years ago, when he was 32. The story comes just weeks before Moore faces Democrat Doug Jones in a special election to fill the seat left vacant by Attorney General Jeff Sessions.
Moore denies the allegations and said that the story was "a desperate attempt to stop my political campaign," according to USA Today. He noted the timing of the article, which came at a key moment of his campaign, despite the incident allegedly taking place decades ago. Moore said that the newspaper "will be sued" for the article.
The Washington Post's story contained allegations from four women who claimed that Moore had relationships with them when they were teenagers. All of them gave their names although only Leigh Corfman said she was below the age of consent at the time. The others said they were between the ages of 16 and 18. The age of consent in Alabama at the time was the same as it is today, which is 16.
"Why would they come now?" Moore asked. "Because there are groups that don't want me in the United States Senate." Moore claimed that Democrats and establishment Republicans alike did not want to see him in office. Fellow Republicans have called for Moore to drop out of the race in the wake of these allegations. However, even if Moore did drop out, his name would likely remain on the ballot. Any alternative candidate would have to run as a write-in.
[Image via Fox News screengrab]
Have a tip we should know? [email protected]