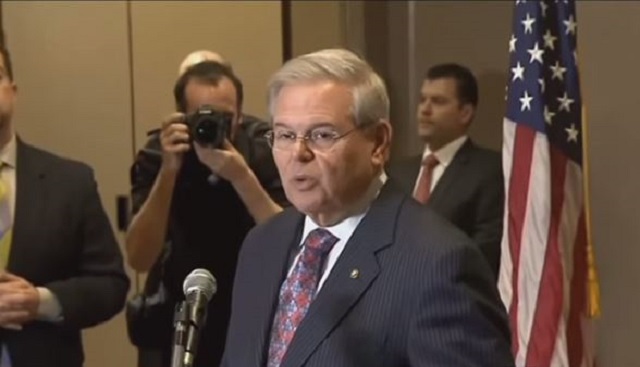 NEWARK, N.J. (AP) — Jury deliberations in the bribery trial of Democratic U.S. Sen. Bob Menendez are scheduled to resume amid uncertainty over the fallout from comments made by an excused juror last week.
The juror told reporters on Thursday that although many jurors appeared to be leaning toward acquittal, she anticipated a hung jury. She was excused because of a previously scheduled vacation that the judge knew about during jury selection in August.
An alternate juror will take her place on Monday, and deliberations will start over. The judge could interview jurors individually to determine if any are aware of Evelyn Arroyo-Maultsby's comments.
Prosecutors alleged Menendez and wealthy Florida eye doctor Salomon Melgen engaged in a bribery scheme between 2006 and 2013 in which Menendez traded his political influence for luxury vacations and flights on the doctor's private plane.
They each face about a dozen counts including bribery, fraud and conspiracy. Menendez also is charged with making false statements for failing to report Melgen's gifts on Senate disclosure forms.
Both men deny the allegations. Defense attorneys have sought to show jurors that the two men are longtime friends who exchanged gifts out of friendship. They also contend Menendez's meetings with government officials were focused on broad policy issues.
In Menendez attorney Abbe Lowell's closing argument, he used the words "friend," "friends" or "friendship" more than 80 times.
In his rebuttal to jurors, federal prosecutor Peter Koski echoed the judge's instructions that gifts given "both out of friendship and a corrupt intent" can be considered bribes.
Arroyo-Maultsby's comments appeared to indicate at least some, and possibly a majority, of the jurors may believe the defense's theory.
The jury has deliberated roughly 15 hours over three full days and part of last Monday. If the newly constituted panel fails to reach a verdict over the next several days, U.S. District Judge William Walls would have to weigh how long to let them continue before declaring a mistrial.
The government then would choose whether to retry the pair.
If Menendez is acquitted, it would reinforce the view that official bribery cases have become more difficult to prosecute, a trend traced to last year's U.S. Supreme Court ruling that overturned the bribery conviction of former Republican Virginia Gov. Bob McDonnell. That ruling played a significant role in how the jury was instructed in the Menendez trial.
[Image via CBS screengrab]
Have a tip we should know? [email protected]