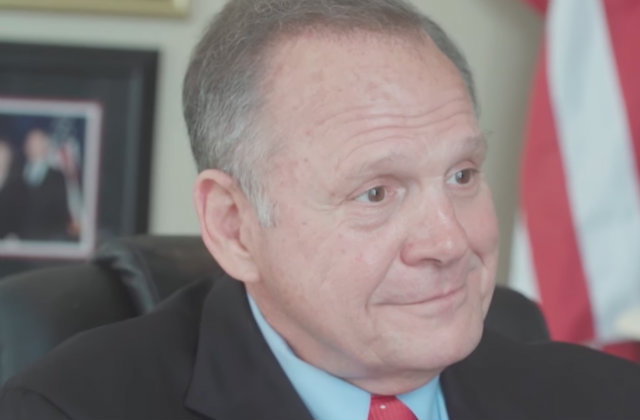 GOP Senate candidate Roy Moore has some ideas about the Constitution. In a 2011 radio interview, the host suggested a new amendment that'd eliminate everything after the 10th. Moore concurred.
"That would eliminate many problems," he said in audio dug up Sunday by KFile. "You know people don't understand how some of these amendments have completely tried to wreck the form of government that our forefathers intended."
For instance, Moore took shots at the Civil War-era 14th Amendment. Courts say the due process clause made it so the first 10 amendments applied to the states, not just the federal government.
"The danger in the 14th Amendment, which was to restrict, it has been a restriction on the states using the first Ten Amendments by and through the 14th Amendment," he said. "To restrict the states from doing something that the federal government was restricted from doing and allowing the federal government to do something which the first Ten Amendments prevented them from doing. If you understand the incorporation doctrine used by the courts and what it meant, you'd understand what I'm talking about."
The 14th Amendment, passed in 1868, was designed to establish citizenship rights for the newly freed slaves.
Moore also took shots at the 17th Amendment. You know, the one that established that the general public, not state legislatures, directly vote on U.S. Senate seats. Moore is running for the Senate in a special election scheduled for Tuesday in Alabama. Normally, he'd be the clear frontrunner by virtue of being the GOP candidate in a red state, but a sexual assault and predation allegations dinged his campaign (he denied the claims).
Other amendments passed after the 10th: The one that abolished slavery, the one that prohibited denial of voting rights based on race, the one that guaranteed women the right to vote…
A campaign spokesman said Moore's comments are being misrepresented.
"Once again, the media is taking a discussion about the overall framework for the separation of powers as laid out in the constitution to twist Roy Moore's position on specific issues," Brett Doster told KFile in an emailed statement. "Roy Moore does not now nor has he ever favored limiting an individual's right to vote, and as a judge, he was noted for his fairness and for being a champion of civil rights."
[Screengrab via The Guardian]
Have a tip we should know? [email protected]