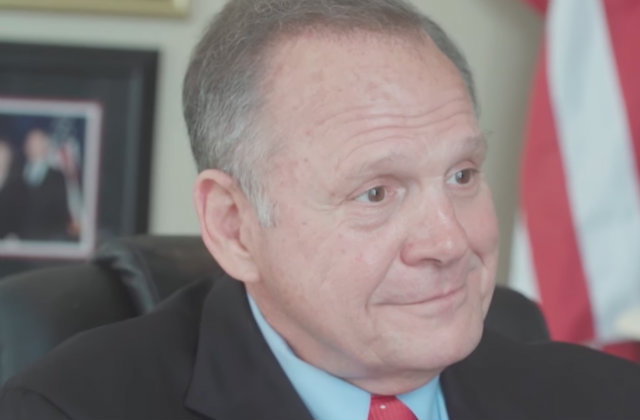 Embattled Alabama Senate Republican candidate Roy Moore once cast the lone vote in favor of a man accused of raping a four-year-old boy.
In 2015, Roy Moore was performing his second stint as a justice sitting on the Alabama Supreme Court–Moore was previously removed from office for ignoring a federal court order mandating the removal of a Ten Commandments monument from the state judicial building.
The Alabama Supreme Court had the opportunity to hear the case of one Eric Lemont Higdon, a man accused and convicted of two sodomy charges due to sexual assault against a four-year-old at Mama's Place Christian Academy in Clay, Alabama.
One of those convictions was first-degree sodomy of a child less than 12 years old. The other conviction was first-degree sodomy by forcible compulsion. Essentially, the first conviction was for statutory rape; the second for forcible rape.
Higdon's conviction on the forcible rape charge was eventually overturned on appeal. The state, by way of prosecutor Luther Strange, appealed that decision and the Alabama Supreme Court took the case up for review.
Eight of the nine justices on the panel found that the appeals court had erred. Their legal logic was such that a 17-year-old's sexual assault of a four-year-old was enough to produce in the mind of the four-year-old, an "implied threat of serious physical injury."  The decision was reversed and remanded and Higdon's conviction was reinstated.
Roy Moore dissented from that opinion. He wrote:
Because there was no evidence in this case of an implied threat of serious physical injury…or of an implied threat of death, Higdon cannot be convicted of sodomy in the first degree "by forcible compulsion."
[image via screengrab]
Follow Colin Kalmbacher on Twitter: @colinkalmbacher
Have a tip we should know? [email protected]