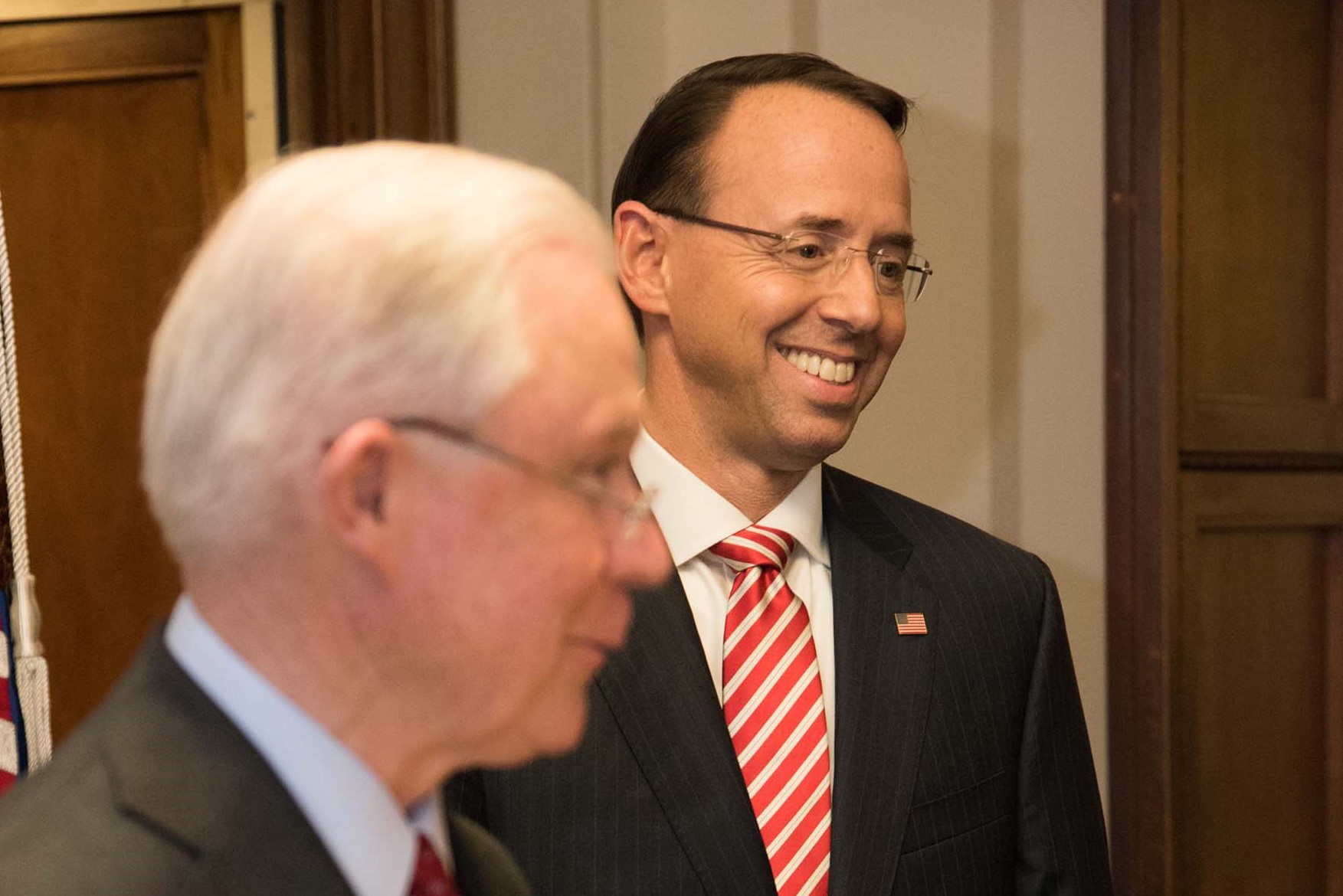 The U.S. Department of Justice (DOJ) has agreed to provide congressional Republicans with multiple requested documents related to the Russiagate investigation.
According to NBC News' Pete Williams, this turn of events will end an impasse that threatened to see Deputy Attorney General Rod Rosenstein held in contempt of congress.
House Republicans had previously threatened to charge Rosenstein with contempt–and impeach him on those grounds for his apparent failure to provide the GOP with various documents including those related to the investigation of Hillary Clinton's email server, James Comey's infamous memos regarding President Donald Trump and text messages between two controversial FBI personnel.
In comments to Fox News last week, Devin Nunes (R-CA) said:
I can tell you that we're not going to just hold in contempt, we will have a plan to hold in contempt and impeach.
Nunes' comments appeared timed to needle both Rosenstein and his Democratic Party defenders in Washington, D.C. Then, on Wednesday Bob Goodlate (R-VA) put Democrats on notice that the GOP intended to subpoena the DOJ for those long-requested documents.
In response, the House Judiciary Committee's ranking Democrat Jerrold Nadler (D-NY) warned, "If House Republicans refuse any accommodation short of the Department of Justice handing over custody of these documents — which it cannot do — I fear the majority will have manufactured an excuse to hold the deputy attorney general in contempt of Congress."
(Nadler was notified by Goodlatte because House rules stipulate that the ranking member of the opposite party be consulted before a unilateral subpoena is issued.)
Rosenstein became the target of congressional Republican rage due to Jeff Sessions' recusal from any and all aspects of the Russiagate investigation. As deputy attorney general, the de-classification of the requested documents fell to him.
Rosenstein had previously stonewalled the GOP's multi-pronged investigation by noting that Nunes himself–and Trey Gowdy (R-SC)–had already been given an opportunity to review the requested documents in a Justice Department facility last year.
Last Friday, Nunes, Gowdy and Goodlatte issued a joint letter saying, "There is no legal basis for withholding these materials from Congress," and issuing a Monday deadline. That deadline whooshed by. But the subpoena news–or something else entirely–finally got Rosenstein's attention.
[image via the U.S. Department of Justice.]
Follow Colin Kalmbacher on Twitter: @colinkalmbacher
Have a tip we should know? [email protected]